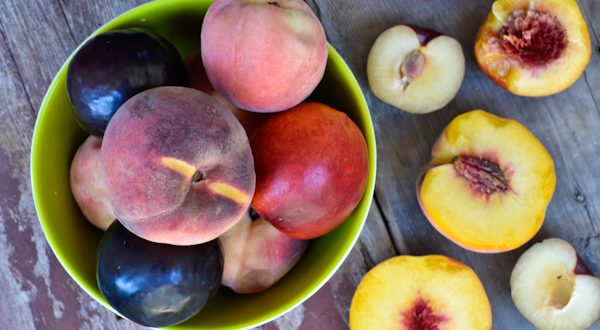 stone fruits – peace. love. quinoa
Sep 09
I've said this before and I'll say it again: Colorado peaches are da bomb.
Have you ever had a short-lived obsession with a fruit or a food, and you eat it non-stop until you literally become sick of it?
Well, I've gone through at least 50+ peaches in the last month or two and I still can't get enough. Maybe because I know that the peach season in Colorado is short so I'm trying to pack a years supply into a few months time??
Not only are the peaches good around here, there seems to be an unlimited supply of drool-worthy stone fruits that are grown locally in Colorado.
I'm not sure I'd ever heard the term "stone fruit" prior to moving to Colorado, and if so I didn't pay it any attention. I've had fun getting-to-know and using the term at the most appropriate time.
Peaches, plums, nectarines, apricots, cherries, and mangoes are all considered stone fruits because of a "stone" inside the fruit that is very large and hard. Often times the stone is referred to as the seed, which is incorrect – the seed is actually inside the stone.
I have found & used several "stone fruit" recipes this season, they make me happy.
I even had a peach & basil pizza recently! (I didn't make that but I WOULD)
(so, as I write this post, I'm enjoying a vegan Colorado peach ice cream from Sweet Action)
(that was bragging – sorry)
(oh, and when this post goes live, I'll be just a few miles from Palisade, CO picking up more peaches)
(more bragging – sorry)
Here are some AWESOME Stone Fruit Recipes:
If you have any favorite stone fruit recipes, please share them in the comments below!
xox 
Tagged with → autumn • fall • fruit • nectarine • peach • peaches • plum • recipe • recipes • stone fruits 
Love
Crista
Pickled Chard Stems Cherry Tomato Vinaigrette