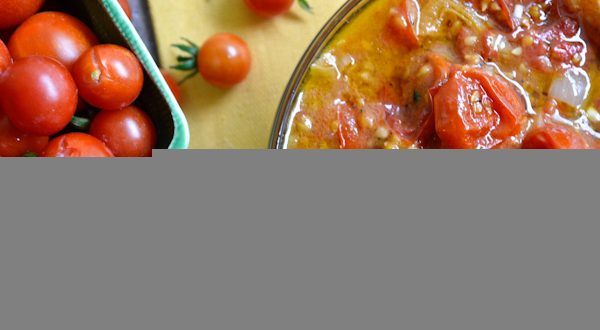 Cherry Tomato Vinaigrette – peace. love. quinoa
Sep 10
The time of year when I have more tomatoes in the garden than I know what to do with has arrived. (yay!) 
I've compiled several tomato recipes but hardly have the time to make them all (let alone eat it all!) – You are ALL invited to dinner at my place ANYTIME. I need someone to help me eat all this yummy food I want to make.
Thank goodness I recently read a post about freezing whole tomatoes – it's as simple as cutting the core out of the tomato and putting it in a ziplock freezer bag. I'll have garden-fresh tomatoes to use all winter long! (yay!)
For months, I've been dying to make this Roasted Cherry Tomato Vinaigrette with tomatoes from the garden. This quick recipe is perfect for anyone who has an abundance of cherry tomatoes because it is easy to prepare and can be used on several different dishes. I made a big batch of this vinaigrette with plans to freeze half the batch. 
The day I made this vinaigrette, I added it to a tomato/avocado/hummus wrap and it added a ton of flavor. This vinaigrette will also work well atop a chopped & roasted brussels sprout salad, or atop any savory salad for that matter. I may use it as a marinade for grilled veggies (kabobs??), or atop a grilled veggie dish (zucchini, for instance). A pasta, noodle, or quinoa dish would pair well with this vinaigrette as well. 
Print
Cherry Tomato Vinaigrette
Author: peace. love. quinoa
Ingredients
1 pint cherry tomatoes, sliced in half
2 large shallots, sliced
1 tablespoon olive oil
2 tablespoons white wine vinegar
1 clove garlic, minced
½ teaspoon sea salt
½ teaspoon pepper
½ cup olive oil
1 teaspoon Dijon mustard
2 teaspoons agave nectar
Instructions
Preheat the oven to 425º F.
On a baking sheet, toss the tomatoes, shallots, and 1 tablespoon of oil, salt, and pepper on a baking sheet. Roast for about 10 minutes. Toss, turn on the broiler, and cook for another 1 to 2 minutes, or until the tomatoes blister and break apart.
Let cool.
Mix together the garlic, Dijon mustard, vinegar, salt, and pepper. Whisk in the olive oil.
After the tomato-shallot mixture has cooled from hot to warm, toss with the vinaigrette. It will thicken slightly.
3.2.2704
recipe adapted from Food52
Tagged with → Cherry tomato • fruit • garden • harvest • recipe • salad dressing • tomato • vegetable 
Love
Crista
stone fruits Hanging Lake – Glenwood Springs, CO