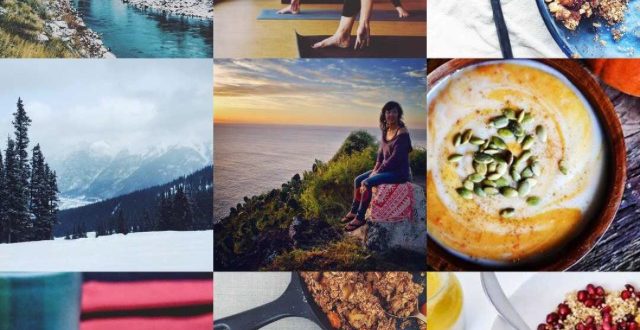 2015 Best Nine as told by Instagram – peace. love. quinoa
Jan 05
WHAT UP 2016?!
I took a trip into the backcountry for the holiday, yesterday was my first day  home this year (!! 2016 !!). It's just now hitting me: it's a brand new year // 2015 is DONE.
2015 will forever go down in history as a year filled with emotion, friendships, struggles, accomplishments, and important life lessons. I am thankful for all that has happened this past year but I don't think I'd be willing to do it all over again.
With all that being said, I step out of 2015 ready to celebrate my wins for the year. I don't have to look through photos or pull my Best 9 of 2015 to realize that I experienced several amazing moments and people last year, although it IS a blast to reminisce with photos. I can hardly look at any photo without wanting to tell the story behind it, I often times catch myself scrolling through photos while lounging on the couch or riding in the car, recalling the experiences that led to the photo capture. Please allow me to put closure on 2015 and to celebrate a few of my wins by sharing the stories behind my Best 9 of 2015 photos (as told by Instagram).
Moving left-to-right, top-to-bottom, thank you for allowing me to share my stories.
1. I spotted this scene while driving home from a work trip to Grand Junction, CO // In one blink, the scene was behind me. I debated whether or not to turn around, and I'm happy I did even though it ended up being 30-45 minutes of backtracking just to get the photo.  This breathtaking view is right off of I70, near Glenwood Springs, CO. I stood on a bridge to take this shot. I remember my hands feeling frozen, and a semi-truck driver stopping to make sure I wasn't stranded….
2. I'm obsessed with Free People. OBSESSED. I want everything to do with everything that they are about. When I got an email from Free People asking me to collaborate with them, CorePower Yoga, a few other local bloggers, and some photographers for a photo shoot, a hot yoga sesh, and a healthy dinner, I was beyond excited. Yoga, a photo shoot at Red Rocks in Free People gear, and a healthy dinner basically makes up THE PERFECT DAY for this girl. The photo you see was taken at CorePower Yoga on Grant Street by VictorOfValencia. I'd never been photographed during a sweaty yoga sesh before, and I kind of liked it…. I may have showed off a little.
3. This Winter Squash Pie was made with a recipe from my dear friend Amanda's book, Smitten With Squash. It's no wonder that it was a top post this year, I took the photo after spending time with Amanda at camp, and picking up on some of her photo skills (her photos are INCREDIBLE), PLUS the recipe is genius. I served this pie with homemade coconut whipped cream for dessert at Friendsgiving this year.
4. A stunning view atop Copper Mountain, 12,000 feet high. I believe this photo was taken on my first snowboard trip this year, I was filled with emotion and angst because I'm still learning and hadn't gained much confidence yet.
5. A Throwback to last holiday season when I was in Hawaii with my homie, lover, and best friend. He took this gorgeous shot that I just so happen to be in. We hiked up Makapu'u Point Lighthouse Trail early in the AM to catch the sun rising above the ocean. Nothing but beauty….
6. Martha Stewart: she's a genius. She inspired the Pumpkin Pie Yogurt Parfait recipe that I developed a year or two ago. This recipe will continue to be a big hit for many holiday seasons to come because, pumpkin.
7. Giuliana & Bill Rancic were throwing a party at one of their restaurants in Chicago a few years back and somehow I ended up in attendance. At that party, they showered us with amazing food and unlimited cocktails. A Brussels Sprouts Salad that I never forgot about was one of the food items they served us that night. I recently decided to make my own version of that salad and BOOM, it was a hit. I served this item at Friendsgiving and have made several batches since then just because. Shredded Kale & Brussels Sprouts Salad
8. Recipe testing doesn't always go as planned, but it's fun nonetheless. I made several attempts at this Butternut Squash (and apple) Crisp but never quite perfected the recipe. I tried using quinoa in the crisp along with quinoa flour which I think could work if I stayed persistent in testing ratios. I made it with sage for a more savory scent, but wasn't convinced that I loved it. Good enough to eat, but never the DELISH I was hoping for so I never shared a recipe here on the blog. I may decide to try it again next holiday season, but for now, I'm over it.
9. So many throwbacks in my Top 9! Years ago, I threw together a quinoa salad for a quiet in-home dinner and took some unattractive photos of it. After stumbling upon those old-school photos, I decided to re-create that salad that I'd remembered being so delicious. I was right, it was good all over again. Pomegranate Pistachio Quinoa Salad
Cheers to a plentiful past and humble new beginnings.