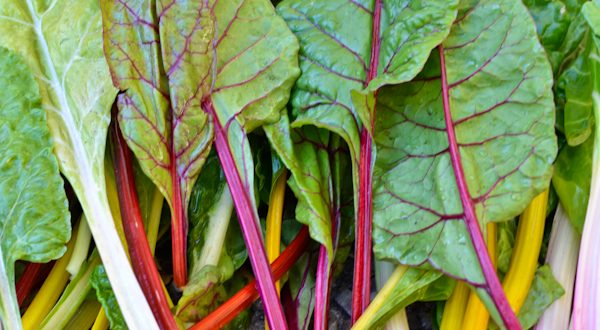 Pickled Chard Stems – peace. love. quinoa
Sep 07
I decided to grow chard in the garden this year even though I'd never eaten it and knew next-to-nothing about it. When it was time to harvest, I wasn't even sure what to do with it. I sautéed the leafy portion and served it as a side dish with a dinner – it was ok. I KNEW the leafy portion was edible but I wanted to give the beautiful, colored stems a chance as well. After googling around, I found a recipe for Pickled Chard Stems on my friend Amanda's blog, Heartbeet Kitchen. (great minds think alike!) I used Amanda's recipe (altered slightly) and was very impressed with the turnout – holy cow these pickled chard seems are YUMMY! Originally, I was skeptical about my "pickling" abilities  so thank goodness I've overcome that fear! I cross my fingers that I can grow another bunch of chard before the end of season…. I want another jar of these jewel toned pickled gems.
Print
Pickled Chard Stems
Author: peace. love. quinoa
Ingredients
one large bunch of rainbow chard stems, cleaned and cut to fit into mason jar, about ¾ inch from the lip
¾ cup rice wine vinegar
1 cup distilled white vinegar
¼ cup sugar
1½ teaspoons sea salt
½ teaspoon black peppercorns
½ teaspoon yellow mustard seeds
2 cloves garlic
Instructions
Put the peppercorns, mustard seeds, and garlic tin the mason jar.
Pack chard stems into the jar.
Bring vinegars, sugar, and salt to a boil in a small saucepan until sugar and salt is dissolved then pour over the chard stems.
Let sit and cool before putting the lid on and refrigerate.
Allow the chard to pickle for about 2 days prior to eating.
3.2.2704
 So, I took my Pickled Chard Stems to the mountains and enjoyed them during a hiking/climbing trip. My friends told me I smelled like vinegar, but it didn't matter because here in Colorado we carry wet wipes in our packs. 
(you never know when you may need a wet wipe in the mountains)
Worth it!
And anyway, shame on my friends for turning me down when I offered them a shot at what could have been a once-in-a-lifetime opportunity at a pickled chard stem straight from my garden. Psh, their loss. 
Thanks Amanda for the awesome recipe!! I LOVED!!
Tagged with → chard • garden • healthy • pickle • pickled • Plant • plant-based • recipe • stem • stems • vegan 
Love
Crista
Peach Rhubarb Crisp {vegan & gluten-free} stone fruits