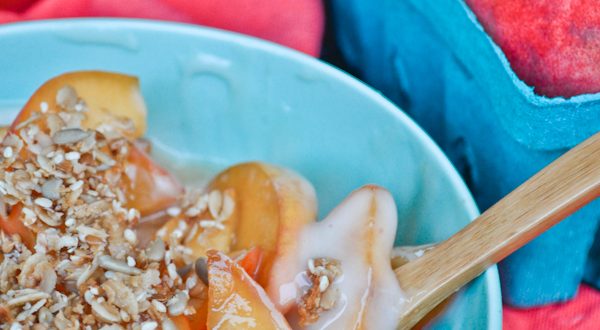 Peaches & Cream Yogurt Parfait – peace. love. quinoa
Aug 17
It's peach season here in Colorado and apparently it's a pretty big deal. There are several festivals happening throughout the entire state in celebration. A mountain town, on the Western Slope, Palisade, CO is where some of the best peaches in the world are grown and that small town sits near Wine Country. Sounds like a great place to vacation – local wineries, festivals, tours, farm-to-table dinners (peach & wine inspired), farmers markets, B&B's, and a quaint little downtown. (count me in!!)
After hearing about these peaches (everyone is talking about them!) I didn't wait long to try them. I ate one the first chance I got! I was driving through a small suburb right outside of Denver the first time I spotted these peaches, they were being sold at a little fruit stand in the corner of the parking lot. I may or may not being living off of peaches right now – I take one with me every where I go. I eat them for breakfast and as a late-night snack. I've paired them with ice cream and peanut buttered crackers. 
For a Sunday morning breakfast-in-bed, I decided to make a Peaches & Cream Yogurt Parfait. I prepared the peaches last night (as the recipe prompts you to do) and couldn't wait to get up this morning to eat them. And now I'm off… to begin my day… 
Print
Peaches & Cream Yogurt Parfait
Author: peace. love. quinoa
Ingredients
2 peaches, core removed and sliced
1 tablespoon turbinado sugar
½ cup vanilla coconut milk yogurt
1 teaspoon honey
¼ cup granola
Instructions
Toss the peaches with the sugar and allow them to sit in the refrigerate overnight. They will soften and create a syrup.
When ready to serve, stir the honey in to the yogurt and then combine the peaches and yogurt together.
Top with granola.
3.2.2704
Tagged with → Colorado • Denver • grand junction • palisade • palisade peaches • peach 
Love
Crista
Yoga On The Rocks garden fresh Melon Basil Soup