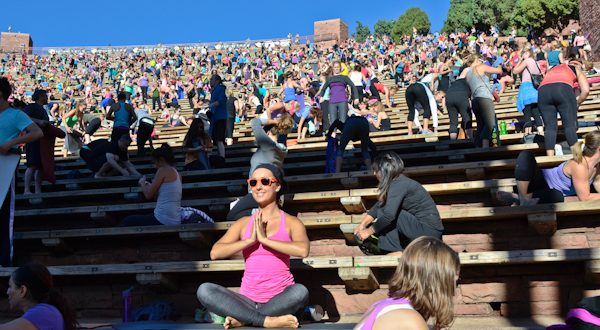 Yoga On The Rocks – peace. love. quinoa
Aug 16
"Where are we??"
"RED ROCKS!!"
"What are we??"
"ALIVE!!"
….a chant that was articulated between a yoga teacher and 2000 yogi students (including myself and a lucky PLQ giveaway winner) several times this morning….
By 9:30 AM this morning, I felt accomplished. I had already practiced yoga at Red Rocks with 2000 other yogis and hiked the Trading Post Trail at Red Rocks. Oh, I'd also collected several free samples that Whole Foods was giving away for the Yoga On The Rocks event. 
I learned today that Red Rocks is the ONLY naturally-occuring, acoustically perfect amphitheater is the world – no wonder it has attracted the attention of musicians for years and years and years. Musicians plan years of their lives around the opportunity to play at this spiritual, emotional venue.
Yoga, on the rocks, was nothing short of an emotional experience either. During practice this morning, the instructor insisted that the students open their eyes and really LOOK at the surroundings. Beautiful rock formations, blue skies, and a bright, sunny sky.
Practicing ancient, meditative body movements (yoga) in an ancient, naturally formed venue is an experience I will never ever forget. Upon entering the amphitheater this morning and during my yoga practice, I had an overwhelming feeling of emotion and energy.
There were 4 sessions of Yoga On The Rocks this year and I only got to attend 2. There is no doubt I will try my hardest to attend all 4 next summer.
Corepower Yoga is the host of Yoga On The Rocks and I'd like to extend gratitude to them for inviting me to YOTR, gifting me with a yoga mat and super sweet sunglasses, and allowing me to gift a reader with an unforgettable experience. 
My Colorado Life keeps getting better and better….
Tagged with → amhpitheater • Colorado • Corepower • Denver • Meditation • Morrison • Mountain • mountains • Red Rock • Red Rocks • yoga • Yoga On The Rocks 
Love
Crista
a new home Peaches & Cream Yogurt Parfait