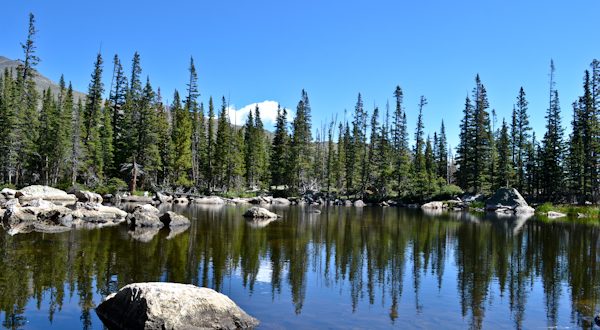 Rocky Mountain National Park – a 9 mile hike to Ypsilon Lake – peace. love. quinoa
Aug 27
In Colorado, we hike 4.5 miles uphill (at 8000-10,000 foot elevation) for a beautiful reward- Ypsilon Lake, which sits high up in the mountains at Rocky Mountain National Park.
When we got up to the lake, we perched on a rock that sits out in the middle of the lake and we ate our packed lunch, rested, relaxed, and soaked up the crisp mountain air.
After lunch, prior to our 4.5 mile hike down, we hung out on a large rock right in the middle of this beautiful waterfall.
I consider myself  to be somewhat in shape, but this hike made me question that. This hike KICKED MY ASS. My friends referred to this hike as being "moderate" but when I googled it after the fact, I see that it is considered a strenuous hike (which made me feel a little better about myself – ha!). I was pretty beat up for an entire day after this hike, my body was achy and my knees were fragile- it was so worth it though.
I mean, this view.  You can't take a bad photo up there in that mountain even if you try your hardest.
In case you're as obsessed with my Coloradical as I am —> Coloradical Women's Skyline T-Shirt (affiliate link)
Tagged with → Colorado • elevation • hike • lake • Mountain • mountains • Rocky Mountain National Park • Ypsilon Lake 
Love
Crista
garden fresh Melon Basil Soup {vegan} Zucchini Banana Bread