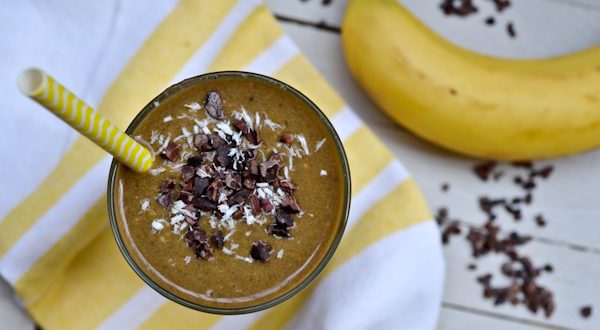 a post-workout Chocolate, Peanut Butter, Banana Smoothie – peace. love. quinoa
Aug 13
chocolate.
bananas.
peanut butter.
coconut.
it's what's for breakfast.
or a little treat, after a workout.
I did not pre-meditate this smoothie, it kind of "just happened" …and I have a feeling it will "just happen" again…
Let me tell you more: Every time I have a banana that's gotten too brown and soft for eating, I peel it, chop it up, and put it in the freezer. After a long, hot, sweaty run a few mornings ago, I was in need of something cold and nutritious. I remembered those bananas in my freezer and I must have had peanut butter on the mind. The chocolate idea came naturally to me PLUS I keep chocolate protein powders on hand (for situations like this, I always have cacao nibs, and I had recently purchased chocolate almond milk to drink as a "treat" – you know, satisfy my sweet tooth.
Print
Chocolate, Peanut Butter, Banana Smoothie
Author: peace. love. quinoa
Serves: 2
Ingredients
3 frozen bananas (peel, chop, and freeze the day before making this smoothie)
2 small handfuls of cacao nibs
½ cup peanut butter
a small handful of dried coconut flakes
1 serving (10 g) of chocolate Protein Powder (I use Garden Of Life Raw Organic Superfood Chocolate Cacao)
1⅓ cup chocolate almond milk (or any type of nut milk you prefer)
Instructions
Blend all ingredients together until smooth.
Serve immediately.
3.2.2704
Love
Crista
SPORT Tea: it's a Colorado Thing an interview with Laura – a story of weight loss