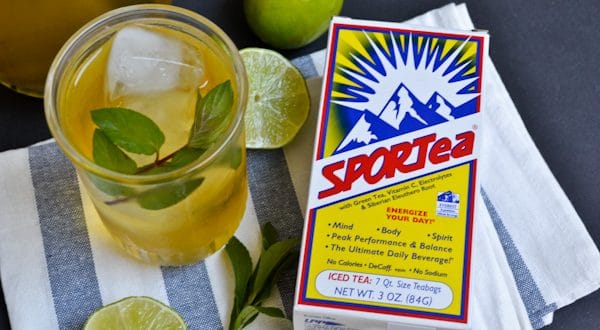 SPORT Tea: it's a Colorado Thing – peace. love. quinoa
Aug 09
Sporty, SPORT tea Saturday: my alarm clock went off at 4:15 am because my super special guy friend was up early for a triathlon. After I saw him off, I had planned on doing Yoga On The Rocks at Red Rocks BUT at about 4:30 AM, I realized that I hadn't purchased my ticket yet. When I logged in to purchase a ticket, I found out that tickets were sold out (2000 tickets – SOLD OUT – that's nuts!). Operation YOTR: abort. I was pretty bummed, but I realized an opportunity to take a quick (early morning) nap and then RUN. I am not a runner, and I don't even enjoy running…. but for some reason I have decided that I'm going to train for a few 5k's. I know I need to introduce some type of cardio back in to my workout routine, I realize that Hot Yoga shouldn't be the only form of exercise I am practicing. What I like about running is that I can do it outdoors (this IS Colorado), it doesn't cost me any money, AND it doesn't require a trip to a gym. Plus, 5K's are kind of fun (especially when there is beer involved – I'll see you soon Oktoberfest).
Way back, Mothers Day weekend when my mom was in Colorado visiting, we had dinner at a restaurant called Linger. With our meal, they served us some of the most delicious iced tea we'd ever had. Naturally, we asked about it and found out they use SPORT Tea, which is made locally in Colorado. I'd never heard of it until then. Immediately the next day, we set out to find some of this SPORT Tea and had success at Whole Foods. It sat on a lower shelf in the tea aisle, could have easily been overlooked.
I'm on my 5th or 6th batch of the SPORT Tea and I've learned that there are so many things to love about it besides the flavor:
SPORT Tea is cold brew tea, which I've never experienced before. All I have to do is fill a pitcher with cold water, add a tea bag, and then allow it to sit in the refrigerator overnight. There is none of that boiling-water-then-wait-for-it-too-cool stuff to worry about. 
SPORT Tea is tasty enough without adding a sweetener. I do like to add mint and lime prior to the cold brew process which greatly enhances the flavor. I like to add the mint during the brew process and then I squeeze fresh lime in just before drinking it.
SPORT Tea contains Electrolytes and Ginseng – two ingredients that are essential for a sporty gal like myself – SPORT Tea gives me energy and helps to minimize cramping during a workout. It also contains Ginger (enhances blood flow and circulation), Vitamin C (crucial for optimal health), and Brazillian Maté (suppresses appetite).
SPORT Tea contains nothing artificial and is 100% natural which makes it a perfect alternative to sugary, caffeinated, carbonated athletic drinks (think gatorade or vitamin water).
Oh, and it's local (Colorado) – I totally dig that.
So anyway, thanks for allowing me to share one of my loves. 
SPORT Tea is available for purchase outside of Colorado HERE.
(oh, and just so you know – Sport Tea did not pay me or ask me to write this post – I did it allllll on my own)
Happy Sporty Saturday, friends! 
Tagged with → athlete • Colorado • electrolytes • fitness • health • Sport Tea • tea • workout 
Love
Crista
Kohlrabi a post-workout Chocolate, Peanut Butter, Banana Smoothie