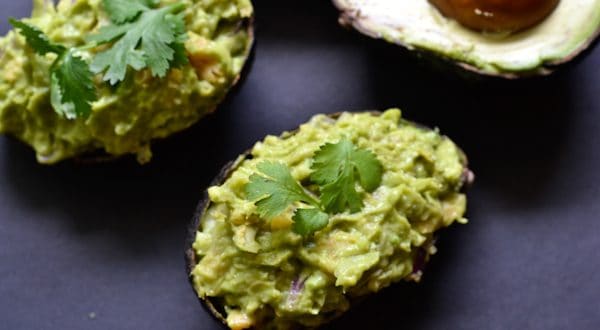 Deviled Avocados – peace. love. quinoa
May 06
I love avocados, I can't help it. They are so dang good (subtly), extremely versatile, and can be eaten for breakfast, lunch, or dinner.  Last night I used avocados in a salad atop black bean tostadas but I've also used avocados in smoothies and to make chocolate truffles. For Easter brunch with my grandpa, I made these deviled avocados and they were so good that I've made them several times since then. I have decided that it's about time I share this recipe.
While the rest of the world is eating deviled eggs, I eat these deviled avocados instead. The ingredients in a deviled avocado vary from that of a deviled egg; for instance mayonnaise is obviously not needed because the avocado offers the creaminess that the mayo would in a deviled egg.
For this batch of deviled avocados, I used onion, garlic, chickpeas, lime, paprika, and cayenne pepper but you could a variety of different ingredients including: tomatoes, cilantro, corn, black beans, mustard, pineapple, curry, or scallions. I really enjoy the addition of the chickpeas in my deviled avocados because they offer texture offering something to bite in to without adding crunch.
Print
Stuffed Avocados
Author: peace. love. quinoa
Ingredients
3 ripe avocados, halved length-wise & pitted
½ small onion, finely chopped
2 cloves garlic, chopped
½ cup chickpeas
½ lemon or lime, juiced
pinch cayenne pepper
1 teaspoon paprika
seat salt & pepper to taste
Instructions
With a spoon, dig the avocado out of the shells, do not discard shells.
In a bowl, smash the avocado until creamy then add all other ingredients and mix well.
Fill the avocado shells with the mixture and serve immediately.
3.2.2265
Tagged with → avocado • deviled avocado • healthy • recipe • snack • stuffed avocado 
Love
Crista
a vegan Ice Cream Blizzard + a vegan Candy Bar giveaway Red Rocks // Morrison, CO – in photos