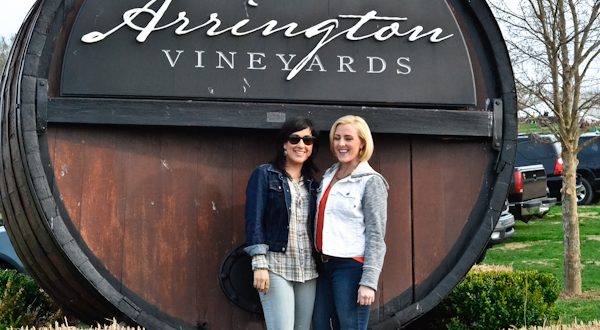 Nashville's Wine Country: Arrington Vineyards – peace. love. quinoa
Apr 17
While everyone thought we were in Nashville Honky-Tonkin, Laura & I were with my buddy Jack in "Nashville's Wine Country" – Arrington Vineyards, which is located just 20-30 miles outside of Nash and owned by country music artist, Kix Brooks.
After delivering a much anticipated vegan smoked cheesecake to the Bluegrass Tour Bus, Jack offered to take us downtown Franklin, TN for lunch and shopping then surprised us with an impulsive trip to the winery! Nice guy, right? He sure does play the role of a "tour guide" exceedingly.
As much wine as I drink, you'd think that I'd have visited more than two wineries in my lifetime… but I haven't. The first winery I ever visited was in Hawaii, unfortunately I don't remember much of the experience.
At Arrington, I learned that there is a lot I could learn about different wines and wine-making and I was definitely inspired to visit more wineries, more often.
A BEAUTIFUL Saturday afternoon spent outdoors with a bottle of red wine and relaxation was MUCH needed (we were exhausted from Friday night activities). We literally sat outside for an hour or two meditatively taking advantage of the fresh, crisp air – it was so good.
My only regret is that we were not prepared with a blanket to lay on and a cute little picnic lunch. Next time, for sure.
We got to do a wine tasting with Josh (he was a gem!) – there were several bottles of wine I would have purchased had I not been traveling. I DID, however, purchase a bottle of Blackberry Dessert wine (YUM!). I haven't cracked it open yet, I would like to use it as an ingredient in a dessert…. I just haven't figured out what that dessert is yet. I think Jack mentioned that he uses a few of the wines in his smoked cheesecakes. Regardless, I'm waiting for a "special" day or event. 
Jack's favorite band was playing at the winery the afternoon we were there. I regret not remembering the name of the band. We would have probably stayed at the winery all day long had we not been anxious to take a nap and get back to the Honky Tonks…..
Tagged with → Arrington • Kix Brooks • Nashville • Tennessee • Vineyard • Vineyards • Wine 
Love
Crista
Nashville: Around Town another Airbnb: Music City Style