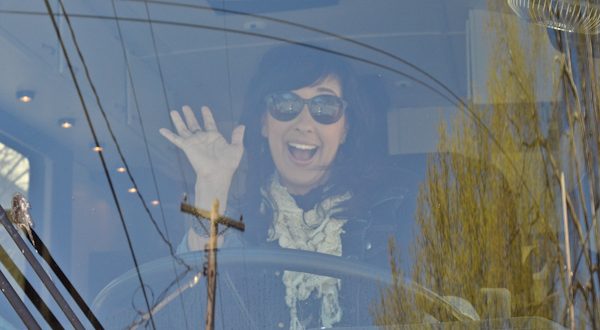 the Bluegrass Tour Bus #BGB – peace. love. quinoa
Apr 11
I tend to do things that I know will gain attention. Life is more fun that way. When Laura & I were planning our trip to Nashville, we planned on staying at the Downtown Hostel again because it is inexpensive and in a perfect location – just one block off Broadway. The last time we stayed at the hostel, we were asked several times if it is a "whore house" (naive country boys….) Anyway, we loved it!
Well, of course the NCAA championships were going on in Nash the weekend we were there so the hostel was booked. Didn't bother us one bit because we knew we could rely on airbnb to find a cool place – We about DIED when we found this Bluegrass Tour Bus available.  
The bus (#BGB), is parked in front of a Bluegrass-playing couples home and they actually still use the bus for touring. We had a BLAST on the bus despite a lack of heat on chilly nights, a lack of electricity part of the stay, and being forced to shower with cold hose water. AND we definitely got the attention we were looking for. "You're staying WHERE?" everyone would ask….. "you heard us right, a Bluegrass Tour Bus…."
We didn't actually get to drive the bus… but can you imagine how cool it would have been if we did??? 
This beat up couch was perfect for afternoon naps – during our afternoon naps, we listened to the band practicing from the front porch of their home….. SO GOOD.
FRIEND BOOTS!!!
KIT-TEN.
Although there were moments that we had to ask ourselves: "are we REALLY doing this??" …I think I'd do it all over again….
If not now, my friends…. then when? …know what I'm saying? 
Tagged with → Airbnb • Blue Grass • Bus • cowboy boots • cowgirl • East Nashville • Honky Tonk • Nashville • Tour • travel 
Love
Crista
Back to Nash. Nashville eats: Mas Tacos Por Favor