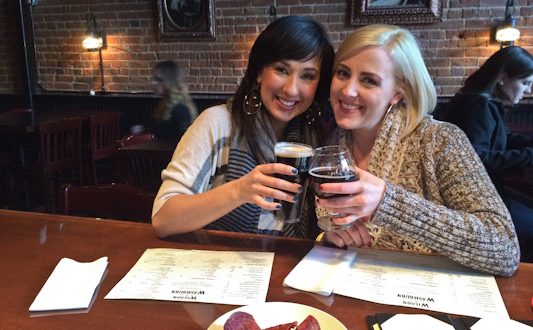 Eating Out as a Vegetarian in Omaha, NE – peace. love. quinoa
Apr 03
There are some cities that are vegetarian-friendly and some that just aren't. I would have never guessed Omaha to have an abundance of vegetarian options but I've been pleasantly surprised in my recent 3-4 trips there. Actually, I've never had a bad meal in Omaha, food is GOOD there. I've actually told a few of my friends I want to take them to Omaha just to check out a few of the awesome restaurants there. They look at me like I'm crazy.
Read on for some of my faves.
At M's Pub, they serve a Carrot Dog in the same fashion that you would see a Bratwurst served. Instead of the brat, you get a marinated carrot topped with sauerkraut, mustard, and relish (all homemade by the way). I've gone to M's Pub several times to get this same Carrot Dog – it really is unique and tasty. I'd like to make it at home but I don't think I can make the sauerkraut and relish quite like M's can make it.
M's Pub is located in the Old Market area and it sits right next to a women's clothing boutique that I love to shop in. If the weather is nice, you can sit outside on the patio and people watch – it's great.
 I've been to DIXIE QUICKS several times, and I've even blogged about it. It is not located in Omaha, it's actually in Council Bluffs, IA which is just 10-15 minutes from Omaha – it's totally worth making the trip out to visit Dixie Quicks. The place is rad and the food is good. I love their cornbread, brussels sprouts, black bean quesadilla, and house salad (the salad dressing is amazing).
Check out this meal I ordered at Kitchen Table: a mug of White Beans, Nicoise Olives, & Roasted Tomatoes, a fresh Salad with Red Wine Vinaigrette, AND a Cauliflower Jam Sandwich. Ok, check out the ingredients on that sandwich: a cauliflower steak, mozzarella, sprouted chickpea pesto, and roasted red pepper jam. SO GOOD. Every single bite was SO GOOD.
Kitchen Table is located in Old Market and they offer "slow food fast". Their menu rocks they have enough vegan/vegetarian options to choose from – eel, it satisfied my needs. I notice they have two vegan soups on their menu of the day today: "Cream" of Beet Soup with Vegan Cream Fraiche & Aloo Gobi Soup. I wish I were there to try them….
On another note, I like how Kitchen table serves their meals with a side of seasoned popcorn and a turmeric pickled cauliflower.
 
By far, the best meal I've had in Omaha was at Wilson & Washburn. To start, I ordered not one, not two, but THREE orders of the Beet Chips which are flash fried and doused with malt vinegar and kosher salt. (uhm, YUM) I ate so many of those damn chips that I was peeing pink. I managed to get the recipe for them from the bartender – I'm definitely going to make an attempt at making them.
Then, that burger – it is also made with beets. That Beet Burger is paired with house smoked peanut butter and pickled jalapeños. Hands down, it was the BEST burger I have EVER had. I had to eat it slow because it packed so much flavor. Yum.
Friends of mine from Omaha gifted me with these vegan treats from Two Birds Bakery which is located in Elkhorn, NE. I've not actually been to the bakery but I have a feeling it sits in the outskirts of Omaha. All of the baked goods were really really good but one muffin I had was outstanding – it was made with curry and coconut. Two Birds doesn't produce "typical" baked goods- as far as I can see, everything I had was spiced and unique in flavor.
————————-
A few other restaurants that I've been to and really enjoyed in Omaha are SALT 88 and Indian Oven – both restaurants were recommended by different friends.
SALT 88 sits in a strip mall but is very impressive on the inside – doesn't look like a "strip mall" restaurant on the inside, it's very modern. I remember eating an AMAZING arugula salad there. AND I remember being served cotton candy at the end of my meal. I LOVE cotton candy!
Indian Oven is located in the Old Market, their food is actually really good, it's hard to find good Indian food. I was there with a group of people so I sampled many of the dishes – my favorite was the Maah Dhal.
————————- 
I hear Amsterdam Falafel & Kabob & Jade Garden are also good restaurants to visit, I haven't been to either of them YET. 
Also, I hear Isa Chandra is opening up a vegan eatery in Omaha soon, Modern Love. I hope I can get there next time I visit Omaha. 
Foodies, are you planning a "vacation" to Omaha now? Ha! 
Tagged with → Dixie Quicks • eat • food • Indian Oven • Kitchen Table • M's Pub • Nebraska • Old Market • Omaha • restaurant • Two Birds Bakery • vegan • vegetarian • Wilson & Washburn 
Love
Crista
Garlicky Pasta with Kale, Tomato, & Thyme Back to Nash.