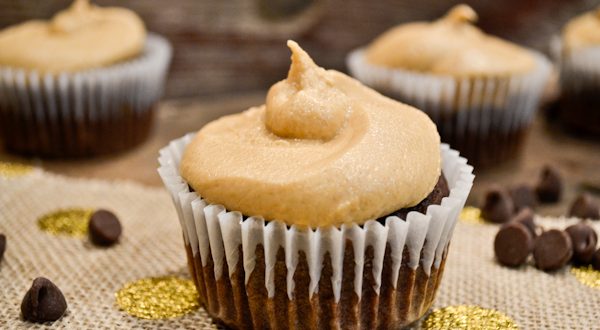 More Cupcake Porn – Today is National Cupcake Day – peace. love. quinoa
Dec 15
I love, love, love, love, LOVE cupcakes!!!!!!!!! 
Naturally, I get REALLY excited for National Cupcake Day.
About 4 years ago when I moved to Chicago from Minneapolis, I developed my obsession with cupcakes. There were 2-3 cupcake bakeries in Chicago that I would visit on the daily. I lived alone so no one really knew how often I ate cupcakes, it was my little secret. Even those people closest to me had no idea quite how often I was stuffing my face with yummy cupcakes…. although, I did share the obsession with a girlfriend of mine – every day we would have conversations about the latest yummy cupcakes we had most recently eaten. Quite often, we made cupcake runs together – out of desperation, you know? NEEEED Cupcakes NOW. haha. We even had a cupcake party, it went down like this: invite 5-10 people over, ask them all to bring cupcakes, FEED OUR FACES, sugar high. best.party.ever. Oh, and you know what else we did? We went on a cupcake tour. We hopped around from cupcake bakery to cupcake bakery … eating cupcakes all along the way…. No wonder I'm 10 lbs. heavier than I was in my early 20's….
Sooooo Instead of stuffing my face with cupcakes to celebrate National Cupcake Day, I indulge in VEGAN CUPCAKE PORN!!! (and new recipes!!)
Cream-Filled Chocolate Cupcakes
by Chocolate Covered Katie
Triple Chocolate & Avocado Cupcake
by Feed Your Awesome Machine
Vanilla Toffee Quinoa Cupcakes with Toffee Frosting
by Desserts With Benefits
Choco-Cherry Cupcakes 
by Namely Marly
Chocolate Cupcakes with Peanut Butter Frosting
by peace.love.quinoa (me!)
Ganache Filed Double Chocolate Espresso Cupcakes 
by Sunday Morning Banana Pancakes
Coffee Mocha Cupcakes
by The Baking Bird
Happppppyyyyyy Daaaaayyyy!!! 
xoxox
Tagged with → Chocolate • cupcake • dessert • National Cupcake Day • sweet • vegan 
Love
Crista
Karyn's Chicago: an all-you-can-eat Raw Food Buffet for $19.99 + Beyonce! 5 Recipes using Kale