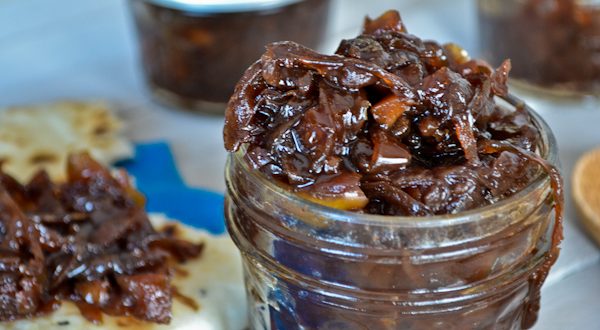 Caramelized Onion & Apple Chutney – peace. love. quinoa
Dec 18
I'm headed back home for the holidays soon and I have big plans to cook for some family and friends. My family is made up of carnivores so there is a chance they'll turn their noses up to my veggie foods, but I'm going to cook it anyway!
In search of something I could prepare in advance and take to my family to enhance their prepared meals with a little touch of my home-cooking, I decided on a chutney. 
This chutney can be used to add flavor and aroma to a variety of different foods. I'd like to try this chutney atop a sweet potato or winter squash dish. It could be served with cheese & crackers, or on a flatbread, or atop a meat or fish. You could put this chutney on a sandwich (think leftovers!), or even on brats & (veggie) burgers. 
Print
Caramelized Onion & Apple Chutney
Author: peace. love. quinoa
Serves: 2
Ingredients
4 large red onions, thinly sliced
3-4 apples, chopped
4-5 cloves of garlic, minced
6 inches of ginger root, minced
2 cups raw turbinado sugar
2 cups red wine vinegar
1 tablespoon olive oil
2 tablespoons ground cinnamon
2 tablespoons ground nutmeg
2 tablespoons ground cloves
Instructions
In a large pot, sautee the onions in olive oil until they begin to caramelize, approximately 10 minutes.
Add garlic and ginger, sautee for another 5 minutes.
Add the remainder of the ingredients to the onions, and mix well. Bring the mixture to a boil.
Reduce the heat to low, and simmer.
Stir often until the mixture has begun to thicken, this could take up to 2 hours.
Transfer the chutney in to hot, sterilized jars and allow to cool or serve immediately.*
Notes
*If you are not canning this chutney, it can be kept in the refrigerator for about one week.
3.2.2265
 Preparing this chutney is extremely easy, and it is made with fairly common ingredients. The prep time for this dish is only 20-30 minutes, but it will simmer for an hour or two providing an aromatic, warm fragrance throughout the house.
Tagged with → chutney • ethnic • gluten-free • indian • sauce • sauces & condiments • vegan 
Love
Crista
restaurant spotlight: Vegetarian Fast Food Vanilla Vodka Chai Tea