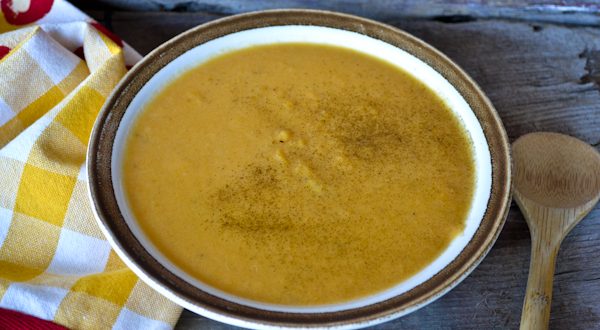 a Sweet Potato + Smoked Gouda soup – peace. love. quinoa
Dec 13
 When I was back home in Indiana over Thanksgiving, I met up with a few friends for dinner and drinks on Black Wednesday. I was disappointed by the lack of veg items on the menu but got excited when the server told me about the Sweet Potato + Smoked Gouda soup they were serving that night. Upon further investigation, I learned that the soup was made with chicken stock, and therefore not vegetarian. I was EXTREMELY disappointed. AND determined. Determined to re-create the soup. It sounded soooo good. (I LOOOOOVE smoked gouda)
I have no idea what the restaurants recipe for this soup is, and I'm not even sure how the restaurants soup tastes, but it wasn't hard to come up with my own recipe. There are very few ingredients used to make this soup, but it is packed with flavor (I didn't even have to use salt & pepper)!
Print
Sweet Potato + Smoked Gouda Soup
Author: peace. love. quinoa
Ingredients
4-5 small sweet potatoes, chopped in to 2 inch pieces
½ cup smoked gouda cheese, grated
1½ cups vegetable broth
1½ cups almond milk
2 tablespoons dried thyme
Instructions
In a medium saucepan, bring the potatoes to a boil in the veg broth and almond milk and then simmer on low heat for approx 20 or until they potatoes are soft.
Transfer the mixture to a food processor and pulse until the mixture is smooth.
Transfer the mixture back to the saucepan and the cheese and the thyme.
Simmer over low heat until the cheese is completely melted.
Serve immediately.
#version#
Tagged with → comfort food • gluten-free • recipe • smoked gouda • soup • soups • soups & stews • sweet potato 
Love
Crista
Cupcake Porn at the Comet CafeFree People Presents: the Cabin