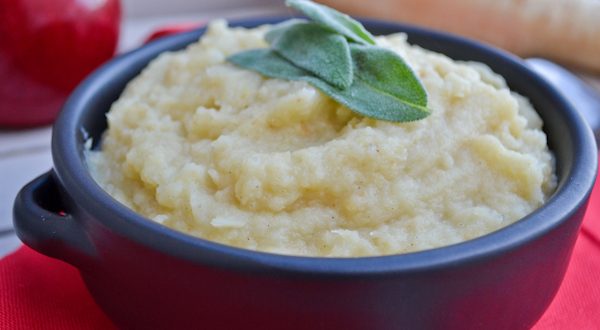 Apple Parsnip Mash – peace. love. quinoa
Nov 15
Today, I am part of the Virtual Vegan Potluck, where 150+ bloggers contribute vegan, plant-based recipes. I wish this were a potluck in real life (OMG I would die)….. come to think of it, I HAVE been part of a vegetarian potluck, it was at a yoga retreat… I guess I didn't die BUT I WAS in pure heaven. I filled my plate 3 times before giving up. Meditation was a bad (or maybe a really good) idea to do after that lunch, I may or may not have almost fallen asleep during meditation due to the comforting food coma I was in. Yum! Just reminiscing about it brings me gratitude and happiness.
So anyway, today's potluck is the second-best thing: virtual. After you check out this Apple Parsnip Recipe, you can scroll through the other dishes that were "brought to the potluck" by way of the buttons at the bottom of this post. 
 I have only seen a few recipes for a "mash" blending apples and parsnips together, none of them as good as mine and none of them vegan – which blows my mind considering that this recipe is one of the easiest plant-based dishes you can make. If you eat a plant-based diet, you probably already have most of the ingredients in this recipe (ok, maybe you don't have parsnips at home… or maybe you do?)
I think all of my recipes are delicious, and I probably say that in every post, but THIS recipe is decadent. Before making it,  I would have not have predicted how fragrant, subtle, and rich this dish is – as creamy as mashed sweet potatoes, and as sweet as Honeycrisp apples are, WITHOUT any added sugar or dairy.
Print
Apple Parsnip Mash
Ingredients
1 pound of Honeycrisp apples, peeled, cored, and cut into ½-inch pieces
1 pound of parsnips, peeled and cut into ½-inch pieces
½ cup water
½ cup almond milk
2 tablespoons vegan butter (Earth Balance)
1 teaspoon cardamom
1 teaspoon ground nutmeg
sea salt & pepper to taste
fresh sage for garnish
Instructions
In a medium saucepan, sautee the parsnips and apples in butter until they start to soften (about 5-8 minutes)
Add the almond milk, water, and spices to the saucepan and bring to a boil.
Reduce heat to medium and simmer, until parsnips are completely tender, approximately 15 minutes.
Transfer the mixture to a food processor and puree until smooth.
Add sea salt & pepper to taste.
3.2.2265
I encourage you to give this Apple Parsnip Mash a whirl and then go check out the other vegan dishes that were brought to the Virtual Vegan Potluck! xox
��
Tagged with → autumn • comfort food • Cook • Cooking • fall • gluten-free • holiday • plant-based • recipe • Thanksgiving • vegan • vegetarian • Virtual Vegan Potluck 
Love
Crista
my Annual {vegan} Thanksgiving Feast – the MenuHoneycrisp Apple Juice