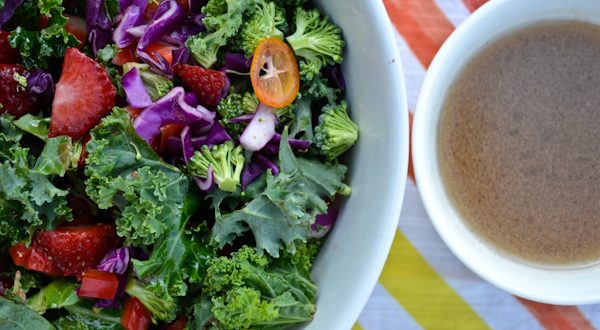 my favorite kale salad – peace. love. quinoa
Apr 23
as i mentioned in a previous post, i am OBSESSED with kale but this wasn't always the case. kale is of course, an acquired taste and it took me some time to get in to it. i found out that once you're in to it, you become obsessed… which is what happened to me.
on a weekly basis, i enjoy a hearty kale salad at Whole Foods salad bar, but this past week i've been making my kale salads at home. in fact, i've made this same salad 3 times within the last week! (that's how good it is!)
here is what else you need to know: i have served this salad to people who thought they'd never eat kale and they ended up loving it. *smiles*
Print
Favorite Kale Salad
Author: Crista
Ingredients
What you need:
5-6 cups of kale, chopped, stems removed
½ cup broccoli, chopped
½ red pepper, chopped
1 cup strawberries, chopped
½ cup purple cabbage, chopped
8-10 kumquats, chopped
2 small carrots, chopped
What you need for the dressing:
¼ cup red wine vinegar
¼ cup canola oil
2 tbsp. tahini
2 tbsp. raw turbinado sugar
juice squeezed from ½ an orange
Instructions
Toss all of the fruits and veggies together in a large bowl.
Whisk together all of the ingredients for the dressing and pour over the salad.
Toss and let chill for 20-30 minutes prior to serving.
Notes
A kale salad tastes best when the dressing has a chance to marinade the leaves – which is why I recommend you serve this salad approximately 30 minutes after preparing.
3.2.2265
Tagged with → appetizer • Cooking • family • garden recipes • gluten-free • healthy • Home • kale • kumquat • paleo • raw • raw foods • recipe • salad • side dish • vegan • vegetarian 
Love
Crista
Outdoor Season / Farmers Market Summer 2013 Bucket List