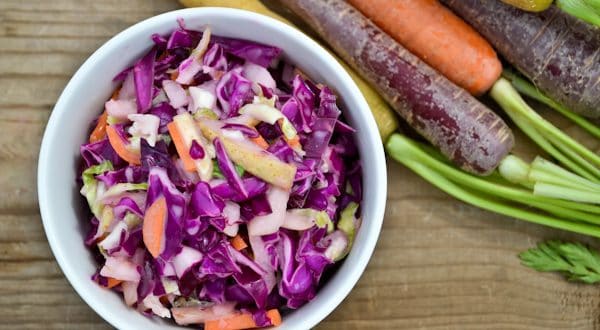 spring coleslaw – peace. love. quinoa
Mar 30
FINALLY, it feels like spring. THAT makes me excited. You know what else makes me excited? The cute little Easter basket I made for my 2 year old niece…. aaaand the multi-colored carrots I found at the grocery store.*smiles* Just like a little bunny, my boyfriend LOVES to munch on raw carrots – he's already laid his eyes on my multi-colors.
Lately I've been craving colorful foods, so I decided to make this beautiful coleslaw. I used the Nayonaise that was sent to me for sampling along with brussels sprouts, a pear, and colorful carrots Each of these ingredients came together to make a dish perfect for spring holidays and potlucks.
Print
spring coleslaw
Author: peace. love. quinoa
Ingredients
5 cups purple cabbage, finely chopped
3 carrots, grated or finely chopped
1 cup of brussels sprouts, finely chopped
1 pear, finely chopped
1 lemon, juiced or fresh squeezed
½ cup apple cider vinegar
1 cup Nayonaise (vegan mayo)
½ cup agave nectar
¼ cup sugar
1 tsp. sea salt
Instructions
Toss all ingredients together in a large mixing bowl.
Refrigerate at least one hour prior to serving.
3.2.2265
If you're looking for me today, I'll be out on the patio with a bowl of this coleslaw and a refreshing blood orange spritzer.
Tagged with → Cabbage • coleslaw • Cooking • Easter • gluten-free • holiday • Nayonaise • raw • recipe • recipes • spring • vegan • vegetarian 
Love
Crista
*sparkling blood orange spritzer* Outdoor Season / Farmers Market