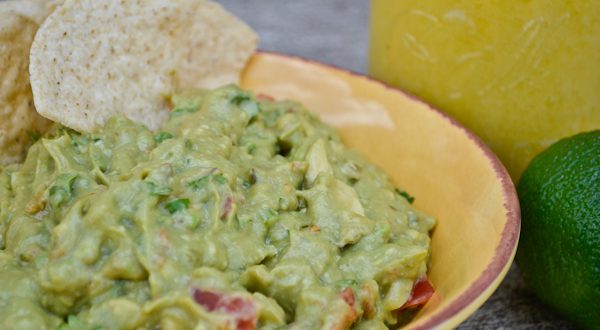 a guacamole recipe for Cinco De Mayo – peace. love. quinoa
May 04
¡Olé! ¡Olé!
Avocados are among one of my favorite foods. When dining out, I ALWAYS order guacamole if it is an option on the menu and if there happens to be an item on the menu that contains guacamole or avocado, chances are I'll order that too.
Quite often I get a craving for my own homemade guacamole because it's the best and because tomorrow is Cinco De Mayo, I share my not-so-secret recipe with you.
Print
a guacamole recipe for Cinco De Mayo
Author: peace. love. quinoa
Ingredients
2 ripe avocados
½ yellow onion, finely chopped
1 tomato, chopped
1 tbsp. jalapeño pepper, chopped
¼ cup cilantro, chopped
2 limes, juiced
2 cloves of garlic, minced
1 tbsp. vegan worcestershire sauce
1 tbsp. ​Cholula hot sauce
2 tbsp. sea salt
Instructions
In a large bowl, combine avocados and lime juice. With a fork, coarsely mash.
Add the onion, tomato, jalapeño pepper, garlic, and cilantro. Stir until just combined.
Add the Cholula, worcestershire sauce, and salt. Add more of each to taste.
Serve with tortilla chips.
3.2.2265
Tagged with → appetizer • avocado • Cinco De Mayo • Cook • guacamole • holiday • party • recipe • summer • vegan • vegetarian 
Love
Crista
Summer 2013 Bucket List Fresh Squeezed Citrus Margarita