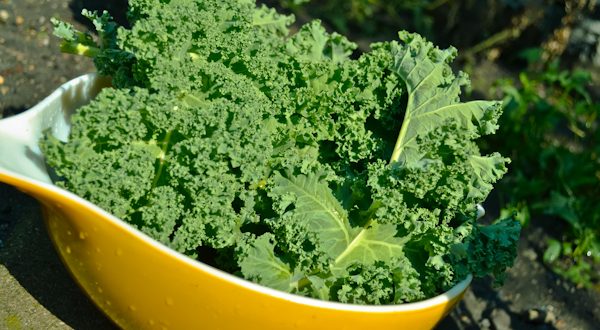 Kale. – peace. love. quinoa
Aug 30
it is a little known fact that i LOVE Kale.
this year, i opted for two Kale plants in my garden, and i have gotten good use out of them!
it wasn't until Native Foods Cafe opened up in Chicago that I fell in love with Kale. They serve Kale as a side dish, it is lightly steamedand topped with finely chopped red pepper. While dining at Native Foods Cafe, I like to add a fresh squeeze of lemon, sea salt, and Cholula hot sauce before eating it.
Another restaurant in my neighborhood, Antique Taco serves a "Market Mushroom Taco" topped with garlicky kale, pickled escabeche, and cilantro cream. That taco is one of the best I've ever had.
Many people cringe at the thought of kale, and I used to be one of those people!
Now that I am a kale eater, I've been know to crave it morning, noon, and night.
My flamboyancy about eating kale on Facebook and Twitter has influenced many people to learn more about eating this underappreciated leafy green vegetable. *smiles*
Everyone knows that Kale is rich in nutrients.
In fact, Kale supports your body's detoxification system and is rich in Vitamins K, A, C, B, E, fiber, potassium, iron, magnesium, and Omega-3 fatty acids. (hence the lable: SUPERFOOD)
If you haven't gotten in to kale, get some kale in to you.
5 Recipes using Kale
Tagged with → garden • kale • recipe • recipes • superfood • vegan 
Love
Crista
homemade applesauce a GREEN potato salad