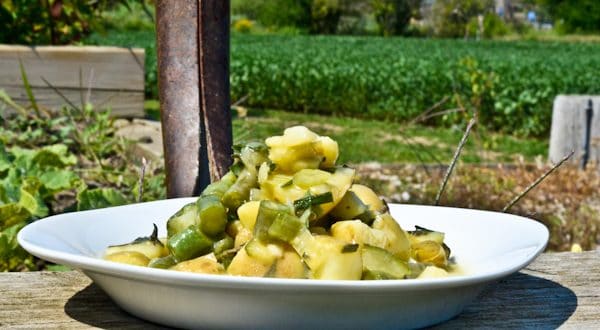 a GREEN potato salad – peace. love. quinoa
Sep 01
it's Labor Day weekend!
you're probably planning a party, a picnic, a BBQ…..
we planned on camping.
we have since cancelled our trip because we've got a BIG project to work on this weekend.
plus, the weather calls for rain.
we've camped in the rain once before… i'm not sure we're ever willing to do that again.
in other news, our garden is in full bloom.
we've got more peppers that we know what to do with and we finally have tomatoes!
i put together this recipe that you can use this holiday weekend with green ingredients from the garden.
not all of these ingredients came from my garden, some came from the farmers market.
you see green beans, chives, celery, leeks, rosemary, sage, & cucumber 
whoops, there is no cucumber in that photo! however, i did use cucumber in my recipe.
Print
Mostly Green Potato Salad
Author: peace. love. quinoa
Ingredients
a small bag of Trader Joe's teeny tiny potatoes OR 3-4 small/medium size Russet potatoes, unpeeled
handful of green beans, trimmed & roughly chopped
3 celery stalks
½ cucumber, unpeeled & cut into tiny cubes
1 small leek, white and tender green parts, trimmed and chopped
finely chopped fresh chives
finely chopped fresh rosemary
finely chopped fresh sage
2 tbsp. whole-grain mustard
2 tbsp. red wine vinegar
extra virgin olive oil
½ tsp. natural cane sugar or agave nectar
fine-grain sea salt
Instructions
Bring a pot of water to a rolling boil. Salt generously, add the potatoes, and cook until tender but not falling apart, about 10 minutes.
Thirty seconds before the potatoes are done cooking, add the green beans to the pot. Drain and set aside.
While the potatoes are cooking, make the dressing by whisking together the mustard, vinegar, 1 tbsp. olive oil, sugar, and ¼ tsp. salt in a bowl. Taste and adjust if needed.
After cooling, cut the potatoes in quarters.
In a large bowl, gently toss the potatoes, green beans, celery, cucumber, chives, rosemary, sage, and the leek with the dressing. Taste and add a sprinkle of salt if needed.
Serve chilled or at room temperature.
Notes
alternately, you can use red potatoes instead of the russet potatoes that i prefer.
you can use whichever fresh herbs you prefer as well. for instance, you could include dill and/or thyme in this recipe. i used rosemary & sage because that is what's growing in my garden.
3.2.2265
what i love most about this recipe is that it is MOSTLY raw. yes, the potatoes are cooked. yes, the green beans are blanched, and unless you are making your own mustard, chances are the mustard is not raw. regardless, this recipe is HEALTHY and full of lively greens.
Tagged with → holiday • Labor Day • potato salad • recipe • summer • vegan • vegetarian • weekend 
Love
Crista