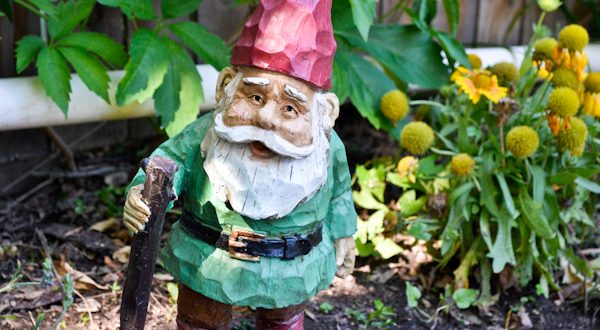 25 Garden Must Haves from Etsy – peace. love. quinoa
Jul 12
When I was shopping for my first home, one of my requirements is that it have some type of outdoor space. I wasn't exactly clear on what that space needed to look like, but I knew that I needed room for a garden and it needed to feel Colorado-y. I moved here for the mountains and the outdoors, I wanted my home and my space to reflect that.
I was lucky enough to find the most amazing little cottage that has an incredibly huge front yard with space for a garden, a hammock, a fire pit, succulents, rose bushes, and room to play. For the first time in years, it occurred to me that gardening is just about planting veggies in the ground – there is so much more that goes along with it if you have the space. This year I didn't get many veggies in the ground because the space is funky (in a good way) and I'm still learning BUT I did have an opportunity to learn all about succulents, refinish a vintage wooden bench, paint and decorate a garden shed, lounge in my hammock, and begin a collection of clay pots (some of which I've painted pretty colors!). I have had SO. MUCH.FUN!
I find myself spending my free time visiting cute garden stores and browsing Etsy for anything and everything that I can use to decorate my yard and my garden shed. Seriously, I'll spend any amount of money for the cutest things! I win, because my yard is shaping up to be an amazing space to hang out. (come on over if you'd like!)
Through my browsing on Etsy, I have found the most amazing adorable garden decor, some even suitable for the indoors. I couldn't not share. Are you ready?
Just so you know, I have partnered up with Etsy via their Affiliate program. If you purchase anything via these links, I will earn a small commission. It's interesting that I must disclose that information because I've never made more than $6 via an affiliate link. Clearly, I don't write this post because of the $$, I write it because I'm in loooove. Here are the 25 Garden Must Have Items:
GARDEN SIGN
If you're going to have a cutie little garden, you might as well have a cutie little sign that draws more attention to it. If my dog could read, maybe he'd get the hint that doggie pee does not belong in the clearly-marked garden!
CERAMIC GARDEN MARKERS
Speaking of markings, how adorable are these ceramic herb markers? There are two mystery items planted in my garden this year, which could have been prevented with the proper identification. (lesson learned!)
MASON JAR HERB PLANTER
If you lack outdoor space, consider growing some herbs indoors or on a small patio. I give a DIY tutorial on indoor herb HERE.
HANGING PLANTER
After inheriting a succulent garden, I quickly learned which succulents don't survive in the ground and must be planted in containers. I die for these adorable hanging planters, which would look amazing on my covered back patio. (I point out that it's covered because these succulents need protection from the elements!)
RUSTIC RECLAIMED APPLE
Too cute for words. It'd be perfect hanging on a fence or in a garden shed (She Shed!)
MAYAN HAMMOCK
I actually own this hammock (in a teal color) and it is AMAZING. It was custom-made to order in Nicaragua and is very high quality (not to mention uber comfy) – the addition of this hammock transformed my outdoor space in to a brag-worthy, vacation-like type setting. I'm in love, love.
SUSPENDED HAMMOCK TABLE
I do not YET own this suspended outdoor hammock table, but I will soon. IT'S beyond NECESSARY.
FIRE PIT
If you've got space leftover in your yard after adding a hammock, you might as well add this epic fire pit as well. I've got a built-in fire pit in my yard, it's a shame I haven't been able to put it to use this year (damn you, rain!!)
COLORADO FLAG BEER COOLER
In Colorado, we REPRESENT and you should too… every opportunity you get. Plus, doesn't every garden need a beer cooler. I mean, walking back in to the house to grab a beer can be debilitating.
BUNDLED COLORFUL DRIED FLOWERS
Decorate your home, decorate your garden shed, decorate your She Shed… so many uses for pretty flowers.
LOCALLY GROWN GARDEN SIGN
Say it loud and proud – that's the point isn't it?
SUCCULENT CEMENT PLANTER
Here is another for the indoor gardener – succulents ALWAYS make for beautiful centerpieces AND they're easy to maintain, like REALLY easy.
AIR PLANT PLANTER
I just recently learned about air plants (am I late to the game) – they are the bomb! They literally grow in the air (NOT SOIL!) and only need to be spritzed with water every 2-3 days or so. For a cool factor, add a few air plants to your indoor space.
VINTAGE GARDEN TOOLS
I probably wouldn't actually use these garden tools, but I would keep them around for the cute factor. I mean, that mint green color couldn't be prettier.
VINTAGE GARDEN TOTE
I am constantly carrying toting stuff between my garden shed and my garden space, this tote would be a perfect carry-all and would lessen the need of me having to make so many trips back and forth. Plus, it's adorable.
GARDEN GNOME JUICE GLASS
Jerome the Gnome! This dude gets around.
DIY VERTICAL GARDEN
Here is another option for the indoors. There are several different designs to choose from like an owl, a tree, or a kitty cat. I'm obsessed. AND, I'm thinking these would make great gifts as well.
RAKE WALL HOOK
Herbs tend to grow faster than you can use them If you're going to grow them, you're probably going to want a set of hooks to dry them from so you can use them all year round. I gift my closest friends dried herbs from my garden over the holidays – the gift costs me next to nothing, but it still ends up being everyone's favorite gift.
MACRAME PLANT HANGER
This beautiful handmade piece would look great in or outside of the home.
HANDMADE BUG HOUSE
I have a love/hate relationship with bugs. OK, I love them most of the time and only hate them when they're chomping on my vegetable garden. I constantly catch myself taking photos of bees, beetles, ladybugs, and any other colorful bug that I find so I must have an obsession. I'd love to encourage the bugs to stick around with this little house because I know so many of them are beneficial to the vegetables, plants, and compost bin.
VINTAGE LINEN GARDEN TOWEL
CUTE! Like, cute, cute, cute, cute, cute!
PRIMITIVE WOODEN GARDEN LADDER
In my wildest dreams, I dream of owning a ladder just like this. Should I go ahead and buy it now?
HERB GARDEN MARKERS
These garden markers sell in a customizable set of 3! SCORE! I need to order 4 sets because I'm growing sage, thyme, basil, stevia, lovage, rosemary, oregano, cilantro, mint, and chamomile. The additional 2 would definitely be lavender and parsley which I don't have planted this year (boo!!)
VINTAGE VEGETABLE GARDEN MARKERS
Oh, HEY! little radishes that would look absolutely adorable in my yard. If you prefer vintage over custom, you should probably buy these veggie garden markers immediately. Because, cute.
If you love this post, check me out on Instagram @clashbabi and subscribe to my newsletter for more!