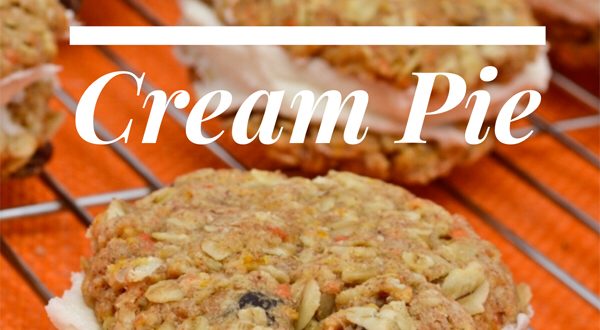 Carrot Cake Oatmeal Cream Pies
Around Easter (yeah, I know it was a while ago – whatever), I as overwhelmed with recipes using carrots. That must be a "thing" around Easter. Bunnies eat carrots which prompts the humans to eat carrots in honor of the bunny? I actually collected several carrot recipes, they all looked so good. Carrot Cake Baked Oatmeal, Salt Roasted Carrots, Raw Carrot Cake, Spicy Raw Vegan Soup, Carrot, Apple Quinoa Hash, and this Vegan Carrot Cake Cookie recipe. I told you, I found a LOT (and even made a few). These cookies, I made immediately… and more than once. I made them without ginger and orange zest and I made them without (because I didn't have the ingredients). I definitely recommend you use the ginger and orange zest – WAY tastier with! I ate these with frosting and without frosting. While they are good without, the frosted cookies won.
But really, do I eat cake and cookies because I like cake and cookies or do I eat them because I like the frosting? There is a bakery in Chicago that sells little pots of frosting, ask me how I know.
So anyway, every time I ate one of these cookies, I told myself they are healthy. Carrots, orange zest, ginger, "fruits and veggies" – they're PERFECT for breakfast (for obvious reasons).
Please do not wait until next Easter to make these cookies, do what the cool kids aren't doing – eat carrots on the "off season".
In this post you'll find the recipe for the cookies and a link to the Coconut Butter Cream Cheese Frosting.
Ingredients
1 cup all-purpose flour
1 teaspoon baking powder
1 teaspoon sea salt
1 cup rolled oats (not instant)
1 rounded tablespoon ground cinnamon
½ teaspoon ground nutmeg
½ teaspoon ground cardamom
1 teaspoon finely grated fresh ginger
zest of ½ orange
1 cup shredded carrots
½ cup real maple syrup
½ cup virgin coconut oil, (melted)
1 teaspoon pure vanilla extract
a batch of Coconut Butter Cream Cheese Frosting (find a link to the recipe below)
Instructions
Preheat oven to 375 degrees and line 2 baking sheets with parchment paper or a silpat.
In a large bowl, whisk together the dry ingredients: the flour, baking powder, salt, oats, cinnamon, nutmeg, and cardamom.
Add the fresh ginger, orange zest, and grated carrots, and mix until evenly combined.
Add the maple syrup, coconut oil, and vanilla extract, and stir just until combined.
Using a spoon or a fork, drop the dough on prepared baking sheets in about 2 tablespoon sized amounts, leaving about 2 inches between each cookie. Gently push on the dough, encouraging it to flatten out slightly.
Bake for 10-12 minutes, or until the cookies are golden.
Transfer to a cooling rack and let cool completely before adding the frosting.
Once the cookies have cooled, use the Coconut Butter Cream Cheese Frosting to make the cookie sandwiches.