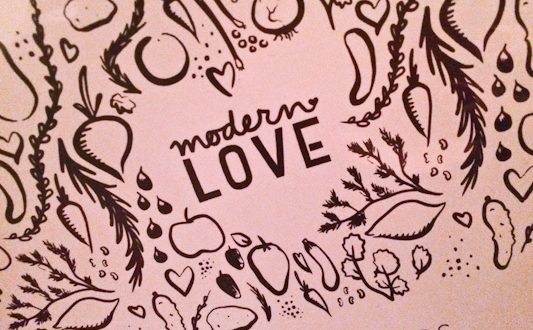 a dinner date at Modern Love in Omaha, NE – peace. love. quinoa
Dec 05
Although it's been a few weeks since my dinner date with BFF, Doug, I'm still reliving that glorious day – the day that I got to visit Isa Chandra's very first vegan restaurant, located in Omaha, NE.
IT. WAS. BOMMMMB.
Although Doug is not a vegan, he agreed to escort me to the restaurant (I use the word escort because it's funny). In the few years that I've known Doug, he's allowed me to feed him foods that he thinks are "exotic" (like Brussels Sprouts and Bloody Mary's). The dude is lucky to have me as a friend – COULD YOU IMAGINE A LIFE WITHOUT BRUSSELS AND BLOODY'S?? The boy is from the midwest and he likes fast food – I'm trying to hook him up.
Anyway, he GLADLY visited Modern Love with me because he trusts me and knows that I won't steer him in the wrong direction. SPOILER ALERT: I am about to give you information that was meant to be shared at the end of this post: Doug ate his entire meal at Modern Love (even though he though he might not like it)!!! That's a BIG DEAL!!!!
I'm pretty confident that we all the right choices, food-wise at the restaurant. I ordered the Chili and PUMPKIN CINNAMON ROLLS – yes, we should re-visit what I just said in a moment – and Doug ordered the Seitan Schnitzel. We also ordered a side of kale – probably the best kale I've ever, ever, ever had. Modesty aside, it was DEFINITELY the best kale I've ever had. 
So, about that Chili served with a Pumpkin Cinnamon Roll AND – AND coconut whipped cream. Apparently, the chili/cinnamon roll combination is a "midwest thing" – they've been serving those two side-by-side for YEARS I'm told. I'm pissed because I'm from the midwest and no one ever told me about this remarkable combination. Doug's all like "we've been eating cinnamon rolls with our chili forever and ever" and I'm all like "shut up…."
Regardless, I'm grateful to finally be "in-the-know"
So, when my mom came to Denver this past week to help me move, I made chili & cinnamon rolls. The night Patrick's (boyfriend) parents met my mother, I made chili and cinnamon rolls. Football this weekend? I'll probably make chili and cinnamon rolls.
Thanks, Isa.
Below is Doug – master vegan eater. He loved Modern Love so much that he took his carnivores parents there for his birthday. They won't admit how much they loved the place, but I bet they cleaned their plates/bowls just like Dougy did.
On another note, I got to meet Isa while I was at Modern Love – I almost died but tried to remain calm. I didn't take her photo, didn't want to bother. Anyway, I idolize the chick because she is a badass vegan recipe creator. And her books are badass and her restaurant is badass. I begged her to open up in Denver but she's not going to (boo) – she's looking at LA though…. Anyway, Isa, if you're reading this – I beg once more for some Modern Love in Denver. Kthanks.
Tagged with → Chili • cinnamon rolls • date • dinner • fall • menu • Modern Love • Nebraska • Omaha • restaurant • vegan 
Love
Crista
the Aftermath easy Cranberry (Whiskey) Apple Sauce