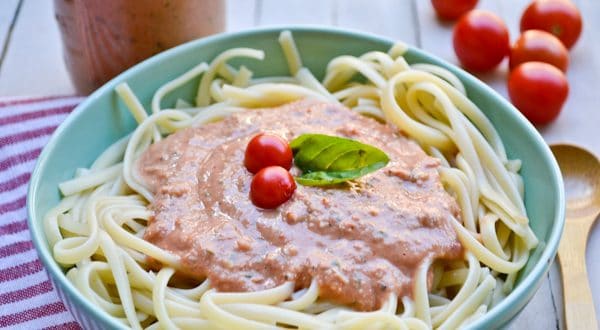 Pink Pesto – peace. love. quinoa
Oct 16
I know, I know, I know, I know. I talk about the tomatoes in my garden ALL THE TIME. I can't help it – THERE ARE SO MANY! I'm not bragging. Or maybe I am bragging, gah – I don't know! Today, here I am, talking about all of those tomatoes AGAIN. 
I've been obsessing over a Pink Pesto sauce that I found at Whole Foods for quite some time. I didn't buy it because it's full of dairy but I check it out every time I'm at the store. No one talks about Pink Pesto, I've never even heard of such a thing, intrigue! I searched for a non-dairy version and quickly realized that Scarpetta is the ONLY company that makes a pink pesto. I like pink, and I like pesto, I also like being able to use ingredients fresh from my garden (brag), and I ALSO like non-dairy goods. SO I made my own version of the Pink Pesto. I don't know how it compares to the Pink Pesto at the grocery store and quite frankly, I don't care because my Pink Pesto is DELISH! 
I made a bunch of this pesto and I froze some of it for future use. LOVE that I can do that – it'll get me through the winter months when I'm desperate for some home-cookin but not willing to do that cooking (if you know what I'm saying!)
You too can make this pink pesto, check out the recipe:
Print
Pink Pesto
Author: peace. love. quinoa
Ingredients
1 cup pine nuts
2½ cups cherry tomatoes
2 garlic cloves
½ cup basil leaves
⅛ cup red wine
2 tsp nutritional yeast
1 tsp. agave nectar
⅛ cup soy creamer
2 tbsp. olive oil
1 tsp. salt
1 tsp. pepper
Instructions
Put all ingredients into a food processor and puree.
Serve atop a room temp or warm dish.
3.2.2807
This pesto can be served at room temperature, atop a warm or chilled pasta dish, however I would not recommend that you heat the pesto up. It's just not necessary.  Because this pesto has so much flavor, you will enjoy it atop some good ole spaghetti/linguine noodles without the addition of anything else. It really doesn't need anything else, although you can get creative. 
Oh, and side note here: I was reading some reviews for Scarpetta's pink pesto – it got some rave reviews but it also got some negative feedback.. People have an idea of what pesto should be like, and apparently a pink version of their beloved "pesto" goes against everything they believe a pesto should be. It's OK. You may or may not like the idea of a PINK pesto, either way, it's cool. Just check it out… you might actually like it.
Tagged with → basil • garden • pasta • pasta sauce • pesto • pink pesto • spaghetti • Tomatoes 
Love
Crista
…as the sun goes down over Breck…. Isa Does It: A Chimichurri Pumpkin Bowl