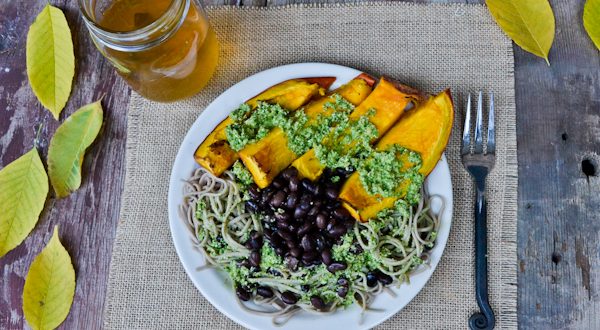 Isa Does It: A Chimichurri Pumpkin Bowl – peace. love. quinoa
Oct 28
Tis the season for pumpkin EVERYTHING. Have you been to Trader Joe's lately? They seriously have EVERYTHING pumpkin. I have to stay away from the place this time of year. Pumpkin cornbread mix, pumpkin cinnamon rolls, pumpkin pop tarts, pumpkin scones, pumpkin ravioli, pumping this, pumpkin that. Almost non of it vegan. Sigh.
For the first time last year, I learned to bake my pumpkins and gather my own puree versus purchasing pumpkin puree in a can. I'm stepping up my game in the kitchen. Watch out November, I'm hot.
I recently purchased a new cookbook, Isa Does It
It's a book I've wanted for quite some time and I finally broke down and got it! I was stoked when I found a pumpkin recipe in the cookbook, it's the first thing I made. I'm going to give you this Chimichurri Pumpkin Bowl/Plate recipe in this post but then you HAVE to buy this book for the other recipes. The Mushroom Hot Pot, the Baked Garlic Curry Fries, and the Jerk Sloppy Joes are among some of my favorite recipes. 
Isa does not know me (yet) but I'm hoping to introduce myself to her next month when I visit her brand new vegan restaurant in Omaha, called Modern Love. Uhm, she's serving a dish of chili & cinnamon rolls at Modern Love (genius!). I guess that's an "Omaha" thing (cinnamon rolls paired with chili, that is). I'm down. Sounds like it could be a "Crista" thing. Don't be surprised when I dedicate an entire blog to chili and cinnamon rolls – pumpkin cinnamon rolls, duh.
So anyway, about this pumpkin bowl (that I plated). I love that it has several different elements and flavors, all reminiscent of autumn. Instead of turning the pumpkin into some fancy baked good, it is baked and eaten as is (seriously, who does that?? it's GOOD). Along with herbs (that I got out of the garden), the pumpkin seeds are used to make the chimichurri sauce and spread atop the entire dish. Soba noodles are recommended as the starch in this dish, but QUINOA could be used as well. Look, I love noodles AND I love quinoa – it's a hard choice to make. (good luck to you)
Print
Chimichurri Pumpkin Bowl
Author: peace. love. quinoa
Ingredients
For the pumpkin and noodles:
1 (3 pound) sugar pumpkin, sliced in half and seeded
8 ounces soba noodles
For the chimichurri:
2 cloves garlic, peeled
½ cup pepitas
2 cups chopped fresh flat leaf parsley
1 cup chopped fresh cilantro
¼ cup red wine vinegar
¼ cup water
1 tablespoon olive oil
1 teaspoon salt
½ teaspoon crushed red pepper flakes
For serving:
2 (15 ounce) cans black beans, rinsed and drained
¼ cup pepitas
Instructions
Prepare the pumpkin & noodles:
Preheat the oven to 425 degrees.Line a rimmed baking sheet with parchment paper and lightly grease. Place the pumpkin halves, cut side down, on the baking sheet. Bake for about 45 minutes or until tender.
In the meantime, bring a pot of salted water to a boil. Cook the noodles according to the package directions. Drain, place back in the pot, and set aside.
Prepare the chimichurri:
Place the garlic in a blender or food processor and pulse to get it chopped up. Add the pepitas and pulse into fine crumbs.
Add the rest of the chimichurri ingredients and puree.
To assemble:
Toss the noodles with about ¼ of the chimichurri sauce and divide among bowls.
Scoop cooked pumpkin into each bowl, and add some black beans.
Top with the additional chimichurri and pepitas.
3.2.2807
Tagged with → autumn • chimichurri • dinner • fall • healthy • Herbs • meal • pumpkin • recipe • vegan • vegetarian 
Love
Crista
Pink Pesto vegan PUMPKIN recipes!!!