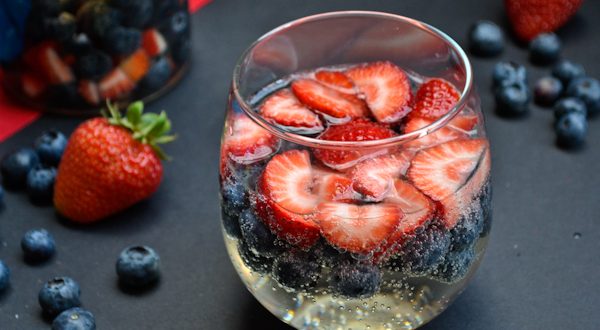 red, white, & blue sangria – peace. love. quinoa
Jul 03
Oh HEYyyyy Holiday Weekend, is that you approaching?
YOU, the one weekend that has everyone out spending all of their money on unnecessary red, white, and blue garb JUST FOR FUN!! Do you even KNOW how long I have been searching for a pair of red shorts to wear on the 4th?? 
Anyway, I love this time of year. Friends, family, cabins, lakes, fireworks, grilled eats, watermelon, being outdoors – it's all so good. I've taken the entire week off work for some solo enjoyment and relaxation – as far as I'm concerned, the Holiday Weekend is already here – my "weekend" just happens to be longer than most. Ha! 
To get in the spirit of red, white, and blue, I'll probably get out my American Flag Shorts, have my nails polished in red, blue, and glitter (!!), AND I've got an entire batch of red, white, and blue sangria waiting for me, calling my name. I'm thinking this first batch will disappear by the end of the day and the second batch will makes it's way to the cabin in the mountains this weekend. We'll see what happens
Print
red, white, & blue sangria
Author: peace. love. quinoa
Ingredients
1 bottle white wine
1 cup blueberries
1 cup strawberries, chopped
2 tbsp agave nectar
1 bottle sparkling water
Instructions
In a large pitcher, combine the strawberries, blueberries, and white wine. Allow the mixture to chill in the refrigerator overnight.
Remove from the refrigerator and stir in the agave nectar.
Serve chilled, and when serving, fill the glasses ¾ full with the fruit & wine mixture and top off with a splash or two of sparkling water.
3.2.2704
Tagged with → America • Beverage • blue • Cocktail • Fourth Of July • fruit • holiday • red • refreshing • refreshment • sangria • summer • white • Wine 
Love
Crista
On The Farm, Off The Hook Urban Gardening: a community plot