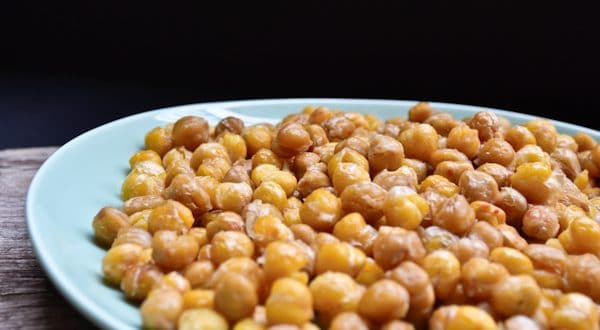 Salt & Vinegar Roasted Chickpeas – peace. love. quinoa
Jun 26
I'm on the road a LOT and this week was no different, I spent some time on the Western Slope in Grand Junction. I had a great time driving through the mountains – a four hour drive through the mountains is much different than a four hour drive through the flat, boring Midwest. (Have I mentioned how much I LOVE Colorado??)
When I travel, whether it be by plane, train, automobile, I constantly struggle with finding food that is suitable for myself to eat. Food is always available, but it is often times garbage (gas stations, fast food, rest stops, airports – OH the struggle!!).
I'm in the habit of packing a few pieces of fruit, protein bars, and mixed nuts but those items don't always satisfy so I'm always looking for the next best "snack" that is suitable for travel.
I made these salt & vinegar roasted chickpeas the day before my trip over the weekend and they turned out to be perfect for travel! They packed easily, weren't messy, and can be eaten warm, cold, or at room temp. 
Because these were so darn easy to make (and they satisfied a salty craving like no other), I'll probably make these quite often. 
Print
Salt & Vinegar Roasted Chickpeas
Author: peace. love. quinoa
Ingredients
2 15 oz.cans of chickpeas, drain liquid and rinse
2-3 cups white vinegar
1 teaspoon coarse sea salt
1 teaspoon olive oil
Instructions
Put the chickpeas in a medium-sized pot and then add enough vinegar that it covers the chickpeas.
Bring to a boil and then remove the pot from the heat.
Let the chickpeas sit in the vinegar for 30 minutes.
Preheat oven to 425 degrees.
Drain the chickpeas and then put them on a lined baking sheet. (use tinfoil or parchment paper for the lining)
Toss the chickpeas in the olive oil and sea salt until evenly coated.
Roast for 30-40 minutes, stir them after the first 15 minutes or so.
Watch the chickpeas carefully after 25-30 minutes to ensure they don't burn. The chickpeas should be crispy & golden when done, not black or burnt.
Enjoy this high-protein snack warm or chilled. (I like both equally)
3.2.2704
I wonder what else I could salt-and-vinegarize….
Yum.
*recipe adapted from Oh She Glows
Tagged with → bean • Chickpea • healthy • recipe • salt • snack • Vinegar 
Love
Crista
Thyme Tea Garden Talk: Bees are the Bees Knees