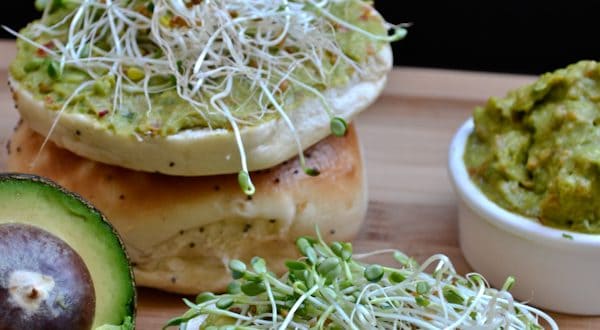 veggie avocado spread: a cream cheese substitute – peace. love. quinoa
Jun 08
Every now and then I crave a bagel. The problem is, the only real way to eat a bagel is with cream cheese and cream cheese kind of turns my stomach, even the vegan stuff. I mean I like it but I don't like it. I don't like it when I start thinking about what cream cheese really is – it just seems "BAD" and unhealthy – like it has zero nutritional value. What's the point? Pure gluttony? I mean, whatever. It's just not my style.
A combination of things helped the idea of a veggie avocado bagel spread originate in my mind. For one, I remember a vegan buddy of mine discovering vegan bagels at Trader Joes. I'd never considered the bagels at Trader Joes being vegan until that point in time – I'd always walked right past them. There has been this "avocado + toast" craze going on lately, which got me thinking: I can use avocado as a bagel spread instead of cream cheese. Happy face. (I use avocado in all of my recipes lately haha)
So I added chopped veggies, and nutritional yeast to avocado that I had whipped and it worked perfectly as a spread for the vegan onion bagels. To make them even more tasty & nutritious, I added sprouts on top of the bagel. I got this idea from a veg buddy I went to school with, he posted a photo of a bagel topped with sprouts on Facebook. 
The avocado + veggie mixture & sprouts take a "sinful" morning treat (bagel + cream cheese) and transform it into a GREEN nutritious breakfast – a perfect way to get the morning started. 
Print
veggie avocado bagel spread
Author: peace. love. quinoa
Ingredients
3 ripe avocados, peeled, deseeded and lightly mashed
1 carrot
1 celery stalk
2-4 radishes
½ cucumber
½ red bell pepper
2 leeks, only the green part
2½ tablespoons Nutritional Yeast
sea salt & pepper
Instructions
In a large bowl, use a hand mixer to whip the avocado until it is smooth and creamy. Set aside.
Roughly chop all of the veggies and then put them in a food processor. Pulse until the veggies are finely chopped. You need approximately ¾ cup of the chopped veggies, use more or less as necessary.
Stir the chopped veggies in to the whipped avocado and then add the Nutritional Yeast. Add salt and pepper to taste.
Use the spread on a toasted bagel.
3.2.2704
Tagged with → avocado • bagel • breakfast • brunch • green • healthy • veggie 
Love
Crista
chocolate pudding + cinnamon whipped cream {vegan} Garden Talk: picking starter plants for the garden