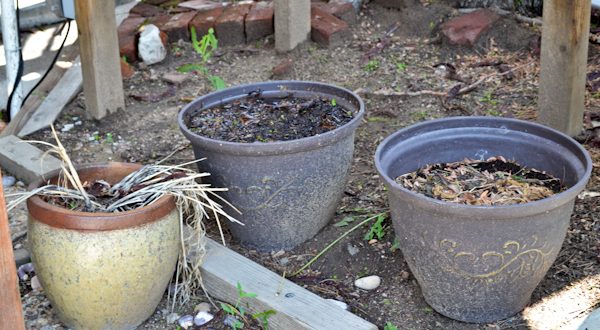 ask and you shall receive: garden style – peace. love. quinoa
May 23
I'm spoiled.
I didn't think I'd get to garden this year because I don't have space at my apartment. Luckily, the salon owner, Nicole, that I work for has offered up the salons "backyard" to garden and plant flowers. She's even enlisted the help of her husband, family, and staff! All of the salon employees I've spoken with are really excited about having the garden in the back, and they're all willing to pitch in and help out. They've even talked about hosting a little "Farmers Market" at the salon – it's going to be adorable! 
While I was at the salon today, I took a few photos of what the backyard currently looks like, you'll see we've got a LOT of work to do – no big deal, we'll have plenty of helping hands!! 
This bed that you see here all be filled with fruits, veggies, and herbs by next week (if all goes well). I think we'll have about 8-9 tomato plants, a few strawberry plants, some beets, carrots, several herbs, cauliflower, butternut squash, broccoli, maybe some eggplants. eeeeeeeeeeeeeee, I'm so excited! 
First things first: we've got a LOT of weeds to pull. I started pulling a few today, it'll be quick & easy. 
Along the sunny wall is where the tomato plants will be lined up, I haven't decided what we'll put in the shaded area yet… I'll either need to find a plant that's happy in shade or use that area as a walkway. Designing the layout of the garden has been really fun!! 
On the opposite side of the backyard, there will be a bed full of pretty pretty flowers.
This planted has obviously been used for cigarette butts in the past – not any more! I plan on emptying it and putting the strawberry plants in it. Apparently, strawberry plants like to hang – I never knew. (I did it all wrong last year) 
We've also got several pots that we will plant with pretty flowers – and possibly sit at the front entrance to the salon.
Wish us luck tomorrow as we begin the process – I ask for "luck" because it's been rainy here in Denver and it's supposed to continue all weekend…. But I'm thinking we'll luck out.
(I'm so excited, I can hardly wait for tomorrow morning to be here!!)
Tagged with → backyard • flowers • garden • gardening • green • green thumb 
Love
Crista
homemade lemonade / arnold palmer progress: garden style