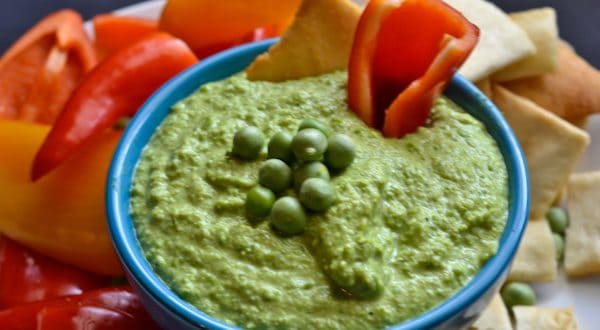 easy peasy Pea Hummus – peace. love. quinoa
May 02
When I work from home (which happens once or twice a week), I don't like to take time out to make meals. It always seems that I have a long to-do list that requires more time to accomplish than I have available. It's weird, you'd think I'd eat more regularly when I'm at home vs. out but tut's just not how it works out. Yesterday, I had 3 different to-do lists so I was running around like a chicken with my head cut off. I only accomplished half of what I intended to accomplish (I also got lazy and fell asleep at 6:30 PM) …..
Anyway, I found this recipe for pea hummus and it reminded me of the Whirled Pea Guacamole that the Dandelion Communitea Cafe serves (YUM!). The pea hummus is made almost the exact same way you make hummus – but instead of chickpeas, you use pea peas.
A common theme with most of the recipes that I make is that they are all quick and easy – this pea hummus is no exception. I whipped it up in less than 5 minutes, cut some sweet peppers and I had my lunch for the day. I liked that I could snack on it throughout the day instead of having to commit myself to an actual "lunch". Tonight. I'm going to eat the rest of this pea hummus with falafel. 
Print
easy peasy Pea Hummus
Author: peace. love. quinoa
Ingredients
2 cups shelled peas
3 Tbsp. olive oil
3 Tbsp. tahini
2 Tbsp. lemon juice
2 cloves garlic, minced
¼ tsp ground cumin
2 Tbsp fresh cilantro, chopped (optional)
sea salt & pepper to taste
Instructions
Combine all ingredients in a food processor and puree.
3.2.2265
Tagged with → gluten-free • heathy • hummus • pea • recipe • vegan • vegetarian 
Love
Crista
a DIY Indoor Herb Garden a vegan Ice Cream Blizzard + a vegan Candy Bar giveaway