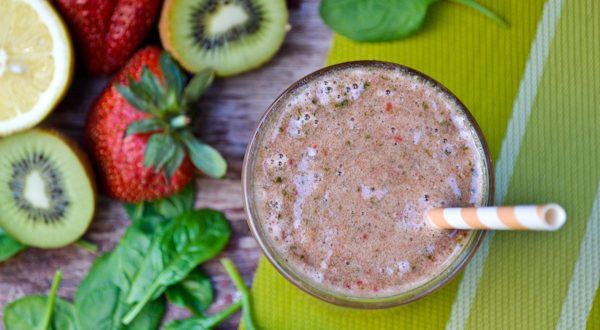 Green Smoothie Series: Strawberry Spinach Kiwi – peace. love. quinoa
Mar 12
One of my favorite flavors as a kid was Strawberry Kiwi…. I'm not sure why I've abandoned it as an adult? Probably because I don't chew bubble gum and eat snow cones like I used to. Anyway, I am ecstatic to introduce the Strawberry Kiwi flavor into my adult life.
This Strawberry Spinach Kiwi Smoothie was made with the following ingredients: 
1 kiwi
a handful of strawberries
1 frozen banana
a handful (or two) of spinach
1/2 lemon, juiced
3/4 cup orange juice
a squirt of agave nectar
a handful of ice (4-5 cubes)
To make this smoothie, put the orange juice and spinach in the blender first and puree the spinach THEN add all of the other ingredients and blend until smooth.  
I would recommend you consume this smoothie immediately, it doesn't store well.
(The smoothie will turn brown if it sits for a period of time and that's NO fun!)
Tagged with → fruits • gluten-free • green • healthy • Home • paleo • plant-based • raw • recipe • smoothie • spinach • Strawberry Kiwi • vegan • vegetable • veggies 
Love
Crista
Green Smoothie Series: Avocado Pear Green Smoothie Series: Orange Greensicle