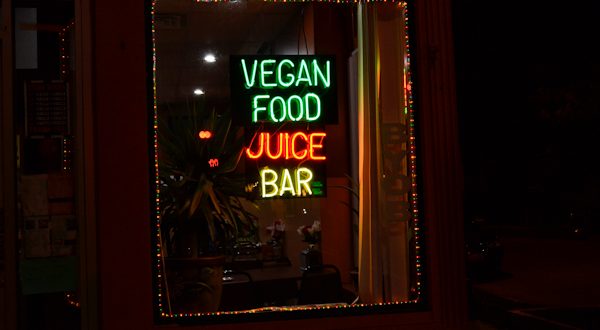 Healthy/Vegetarian Fast Food Options – peace. love. quinoa
Jan 29
After leaving the gym a few nights ago, I was hungry. I wanted food and I wanted it fast. I had a few errands to run before going home to eat. Had there been a restaurant hat serves healthy food fast, I'd have been there however, the only fast-ish food options within the vicinity were McDonalds, Wendy's, Taco Bell, etc… I walked in to the local grocery hoping to make a salad but they were already disassembling their salad bar for the night. mad face
I have found that there are more and more veg-friendly fast food options becoming available, but they are mostly limited to urban areas. In the suburban area I've lived in this past year, there are ZERO options. I mean, the best you can do is make a salad at the grocery store salad bar. 
In the city of Chicago, where I lived for many years, there are several options, if you know where to look. Sometimes it's a hassle to find parking which then makes a "quick trip" painful and frustrating, but that's beside the point.
The Native Foods Cafe concept is similar to that of Panera, your food is ready within 2-5 minutes after ordering at a counter. I eat at Native Foods Cafe about once-twice a week because of the convenience and instantaneous delivery of a meal. They have several locations throughout Chicago so no matter where you are in the city, you are probably near a Native Foods Cafe location.
Karyn's Raw Vegan Gourmet Restaurant has a cafe in audition to the sit-down restaurant that offers pre-packaged meals and a smoothie/juice bar.
I stumbled upon the Vegetarian Fast Food restaurant in a Chicago suburb years ago, and it has since then been one of my favorite indian restaurants. Convenient when you're in the area, but it is out of the way if you are not. I wish there were more restaurants like this one scattered throughout the Chicago suburbs, but there aren't. I guess it doesn't matter, I'm moving in a few days anyway.
A few more of my favorite veg fast food restaurants in Chicago include: Upton's Breakroom, Quesadilla La Reyna del Sur, and Vegetarian Express.
I actually just went to Vegetarian Express for the very first time a few weeks ago and I'm totally bummed that I didn't discover it sooner, they serve amazing food. Now I'm moving to Denver so I won't get to eat there again (maybe) and blah blah. Boo.
I'm anxious to see what the vegetarian-friendly fast-ish food options will be like in Denver. I know they have a Native Foods Cafe and an Udi's, which are both undeniably awesome and I do remember Beet Box having vegan sandwiches that are quickly made-to-order while you wait… but I hope to find more. I hope Vegetarian Fast Food (the indian place) and Vegetarian Express open up shop in my new hood. Just sayin.
PS. Have you tried Chipotles new Braised Tofu Sofritas? I haven't YET…. but I do love me some Chipotle. Guacamole, mmmmmmm.
Tagged with → Chicago • Chipotle • Denver • Fast Food • Native Foods Cafe 
Love
Crista
Introducing: Moving Day: