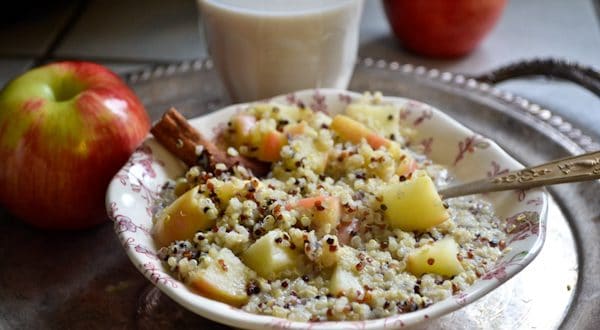 Apple Pie Quinoa Breakfast Bowl – peace. love. quinoa
Jan 10
 When I was in Denver, during the snow storm, I wrote a post listing off a few items I would stock in the house if there were ever a chance I might get snowed in – quinoa & fresh fruit were on that list. Well I had those items on hand in the apartment during the snow storm, and I was so happy to finally find the exact perfect morning to finally make this warm & fragrant Apple Pie Quinoa Breakfast Bowl – I've been eyeing this recipe for months.
Print
Apple Pie Quinoa Breakfast Bowl
Author: peace. love. quinoa
Ingredients
½ cup quinoa, cooked in water
1 large apple, diced (I used Honeycrisp)
1 cup vanilla almond milk
sprinkle of cinnamon
1 tablespoon agave nectar
Instructions
In a small saucepan, warm the almond milk over medium heat.
When the milk is almost at a boil, stir in the cooked quinoa, apple, and cinnamon.
Stir occasionally until the almond milk is absorbed and the mixture has a consistency similar to oatmeal. (about 10-15 minutes dependent on desired thickness)
Remove from heat and stir in the agave nectar.
Top with additional cinnamon to taste.
Serve warm.
3.2.1275
Tagged with → apple pie • breakfast • brunch • gluten-free • quinoa • recipe • sweet • sweets • vegan • vegetarian 
Love
Crista
airbnb: a Vintage Decor Apartment Mountains Were Made To Move You