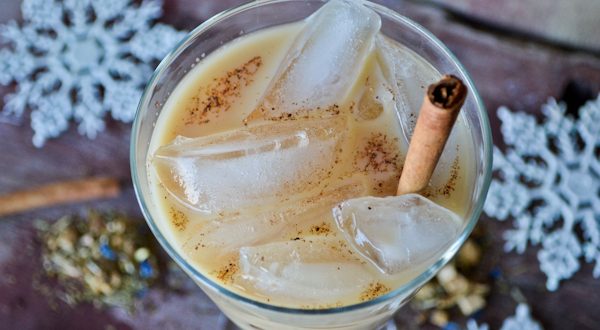 Vanilla Vodka Chai Tea – peace. love. quinoa
Dec 19
I am going to name this Vanilla Vodka Chai Tea my Official Holiday Drink for 2013.
Christas Trees, Gift Wrap, Holiday Music, Vanilla Vodka Chai Tea
It fits right in.
Recently, I was introduced to Rumchata, everyone seems to love that stuff but I wasn't a fan. It is waaaay too heavy, sweet, and it's full of dairy. Hangover? Blah.
This Vanilla Vodka Chai Tea offers the same flavors (vanilla & cinnamon) but is much lighter, smoother, and is easily dairy-free! I plan to make it for a friends dinner party on Christmas Eve and at the New Years Eve party I'm attending…
Print
Vanilla Vodka Chai Tea
Author: peace. love. quinoa
Ingredients
8 ounces Chai Tea, strong brewed and cooled
4 ounces Vanilla Soy (or Coconut Milk) Creamer
3 ounces Vanilla Vodka
dash of cinnamon
dash of nutmeg
Instructions
In a cocktail shaker, combine ingredients and shake.
Serve over ice.
Garnish with a dash of cinnamon or a cinnamon stick.
3.2.2265
Tagged with → Beverage • Chai Tea • Cocktail • cocktails • gluten-free • holiday • recipe • vegan • Vodka 
Love
Crista
Caramelized Onion & Apple Chutney Bread Pudding w/ Eggnog Cream Sauce {a vegan recipe}