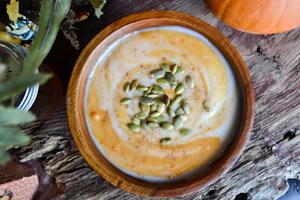 Pumpkin Pie Yogurt Parfait – peace. love. quinoa
Oct 24
So… I have written about coming across my late grandma's recipes and I finally had the opportunity to re-create one of the recipes, Applesauce Drop Cookies. There is another recipe that struck my interest, Orange-Pumpkin Pudding. Grandma clipped the recipe out of Better Homes & Gardens in October of 1968. The pudding consisted of beaten eggs, canned pumpkin, evaporated milk, grated orange peel, and a few spices. Sounds yummy, but not my style.
This Pumpkin Pie Yogurt Parfait recipe I found in Martha Stewart Magazine offers the same rich pumpkin-y flavor that Grandma got out of the pudding, and it's healthier… however, just as sweet.
Martha Stewart. That chick is a genius. Obviously. She's the only one who can think up something this simple & amazing. I did alter her recipe slightly to satisfy my own needs and taste, but still – she's got it going on.
Enjoy this yogurt parfait for breakfast and/or as a sweet treat. You can use any type of vanilla yogurt that you'd like, I prefer to use Vanilla Coconut Milk Yogurt.
Print
Pumpkin Pie Yogurt Parfait
Author: peace. love. quinoa
Ingredients
¼ cup pumpkin purée
6 ounces vanilla yogurt (I use Coconut Milk Yogurt)
½ tsp. pumpkin pie spice
1 tbs. pumpkin seeds
drizzle of honey
Instructions
Stir the pumpkin purée and the pumpkin pie spice in to the yogurt.
Top with pumpkin seeds and a drizzle of honey.
3.2.2265
I selected this post to be featured on my blog's page at Blog Nation.
Tagged with → autumn • breakfast • brunch • dessert • fall • food • gluten-free • healthy • holiday • Home • PLQ favorites • pumpkin • recipe • sweet • sweets • Thanksgiving • yogurt 
Love
Crista
Applesauce Drop Cookies: Grandma's Recipe Chocolate Cherry Sundae: a smoothie recipe