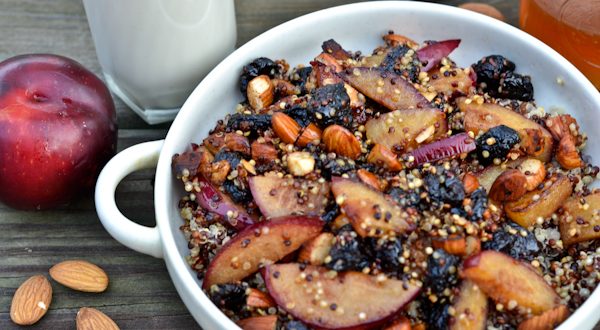 Breakfast Quinoa with Fruit & Almonds – peace. love. quinoa
Oct 21
Baby, it's cold outside. It's the time of year that we all crave comfort food. It's the time of year to be spent in the kitchen cooking and baking. I spent all summer in the garden and now I'm ready to move back inside. Up early this morning (even though I was cozy under the covers), I got up to make this comforting, and fragrant breakfast quinoa. I was craving it. It felt so good to be in the kitchen clothed in my warm pj's and fuzzy socks, ready fill my belly with warm comfort food.
This breakfast quinoa is hearty and filling, perfect for a slow, autumn morning OR a busy work day. After eating this morning, I want to curl back under the covers and take a mid-morning nap. However, I'm not saying this dish is heavy, it is high in protein, will improve your metabolism, and will offer you energy to get your day started.
Print
Breakfast Quinoa with Fruit & Almonds
Ingredients
1 cup quinoa, cooked
1 tablespoon Earth Balance vegan butter
1 plum, pitted and sliced
⅛ cup dried fruit (cranberries, cherries, apricots)
¼ teaspoon ground cinnamon
1-2 tablespoons honey or agave nectar
handful of almonds, halved or slivered
Instructions
Heat a large, heavy saucepan over medium heat, and add the Earth Balance butter.
When the sizzling begins to subside, add the plums, dried fruit, almonds and cinnamon.
Stir gently for two to three minutes until the plums begin to break down slightly.
Add the cooked quinoa.
Toss the ingredients together gently and heat through.
Drizzle with honey or agave nectar before serving.
If desired, you can add milk or yogurt.
#version#
 I've had several discussions about QUINOA in the last week or so. Many people aren't familiar with the grain OR have no idea what to do with it once they have it at home. Quinoa is nutty in flavor and can be used in a variety of different ways, sweet OR savory. It will pick up on any flavor you add to it. I'm digging it right now because it is an option for gluten-free dishes. Many of my friends have gone gluten-free and I'm ready to flirt with it as well. 
Tagged with → autumn • breakfast • brunch • comfort food • fruit • gluten-free • PLQ favorites • quinoa • recipe • vegan 
Love
Crista
Old Town Omaha + M's Pub Applesauce Drop Cookies: Grandma's Recipe