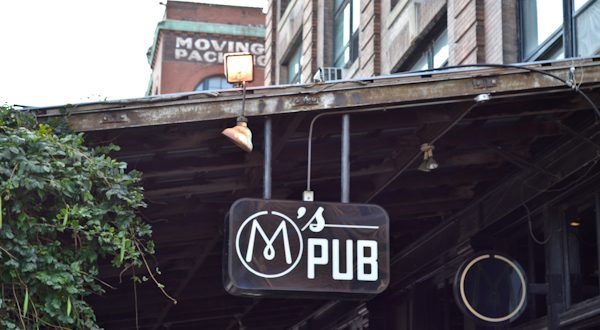 Old Town Omaha + M's Pub – peace. love. quinoa
Oct 16
Every time I mention Omaha, people pity me for having to visit – however it is one of my favorite places to go (for work trips). The #1 reason I like visiting Omaha is because I eat good while I'm there. 
After I have fulfilled my work day, I like to hang out in the Old Town area which is right Downtown Omaha. The area is filled with warehouse-like buildings, brick-lined streets, great local restaurants, and cute boutiques.
Nouvelle Eve is my favorite boutique to shop for clothing & jewelry.
In Old Town, the street performers seem to be out all day every day, but the weekends are especially active. I took the photo above last Thursday afternoon, I loved that guy playing the sax. On that beautiful day, I sat down and listened to him play for a while….
M's Pub is one of my favorite restaurants in Old Town. I've eaten there several times and have never had a bad meal.
The Sicilian Lahvosh (garlic, basil, tomato, and mixed olives) is my favorite favorite favorite appetizer. Lahvosh is a thin flatbread made with flour, water, and salt. The dough is rolled out flat and slapped against the hot walls of a clay oven.
And this Carrot Dog is unlike anything I've ever had before. It is served up like a bratwurst (complete with sauerkraut, relish, and stone ground mustard) with a marinated & grilled carrot acting as the "brat". I am definitely going to try to make this at home some day.
 "Do I look like a desperate housewife?? I wondered as I drove around in my BMW rental….
(i thought i was so cool)
aaaaand allow me to introduce you to Beyonce, the giant metal Chicken – I can not even express my excitement over finding her through this blog – I freaked out the moment I laid eyes on her. To understand, you must read this blog post: And that's why you should learn to pick your battles. 
Isn't she gorgeous?
Tagged with → Beyonce • food • M's Pub • Old Town • Omaha • restaurant • travel 
Love
Crista
a BLOODY good time at Handlebar – Chicago, IL Breakfast Quinoa with Fruit & Almonds