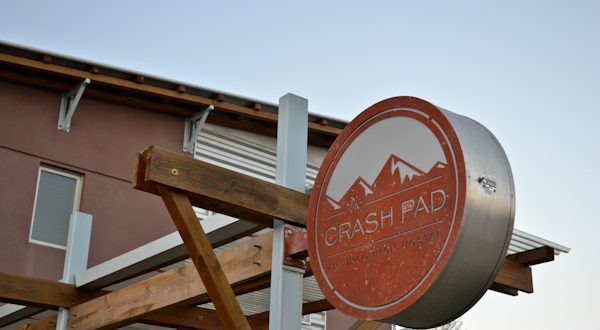 The Crash Pad – Chattanooga, TN – peace. love. quinoa
Oct 02
I'm so excited that we got the opportunity to go to Chattanooga for a night while in TN last week.
During my first trip to Nashville, I stayed at a hostel for the very first time. The Crash Pad in Chattanooga marks my second experience with a hostel. In fact, I read about The Crash Pad a year or two ago and it's been on my bucket list ever since BECAUSE it is a destination for outdoor adventurers, which is me.

The Crash Pad is the first hostel community to attain a LEED Platinum Certification, one of only four buildings in Chattanooga who have attained it. Even though The Crash Pad is considered a HOSTEL (shared bathrooms, make-your-own bunk bed, super affordable), the place is cleaner than most HOTELS I've stayed in and is downright gorgeous.

Offering visual stimulation to the hostel campus, you see a photo of the restaurant/bar, Flying Squirrel that sits on campus next to The Crash Pad. From what I understand, the restaurant is owned by the same guys who own The Crash Pad and the building is equally as gorgeous. It's almost as if both building structures are influenced by the outdoors, utilizing a lot of wood and concrete in their designs. The Crash Pad + Flying Squirrel offer a true "Base Camp" for urban travelers.

The common area in the hostel is cute and friendly, and has a lot of information for travelers seeking an outdoor adventure. In addition, there is a shared kitchen where they offer coffee, bread, and eggs so you can make yourself some breakfast.

Instead of a shared bunk, we got our own private room (fancy!) …actually, the rooms AREN'T fancy, but they'll do (especially for the price and location). The bedroom had a window overlooking the courtyard and the bed was comfy. I loved waking up to the sunshine spilling in through the window.
The courtyard was well equipped with a hammock, grassy areas (for a picnic??) and a fire pit (which we didn't get around to using because we were at the bar). Seriously, I could hang out here all day reading, blogging, and picnicking.

((a couple selfies before we went out for my birthday dinner))
There wasn't much that we didn't love about Chattanooga and The Crash Pad. I hope that I'll have the opportunity to visit again. I'm even considering a big lifestyle change and a move away from Chicago……. and Chattanooga is the type of city I see myself living in… We'll see what the future holds!
Tagged with → architecture • building • Bunk bed • Chattanooga • Chattanooga Tennessee • green • hostel • LEED Certified • Nashville • Nashville Tennessee • sustainable
Love
Crista
scenes from Chattanooga, TN Mashed Sweet Potatoes with Banana and Brown Sugar -a shared recipe, shared