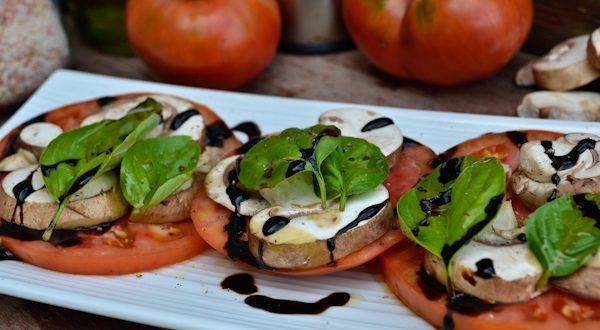 mushroom caprese salad – peace. love. quinoa
Sep 21
I can't stop won't stop.
ANOTHER post featuring ((drumroll)) ……TOMATOES!!!!

Here we have a Caprese Salad made with mushrooms instead of mozzarella cheese, which happens to be a legit substitute. ((keeping it raw and dairy-free!))
I've made it before ((and I'll make it begin)) but I don't remember where I got the idea…..

Ingredients used: home-grown tomatoes, sliced baby bella mushrooms, fresh cut basil, olive oil, balsamic vinegar, sea salt, and fresh ground pepper.
Don't act like you're not impressed. (i still am….)
Tagged with → garden • garden recipes • gluten-free • paleo • plant-based • raw • raw foods • vegan • vegetable • vegetarian
Love
Crista
a look at the garden: amana orange tomatoes tree-to-table: {vegan} apple crisp