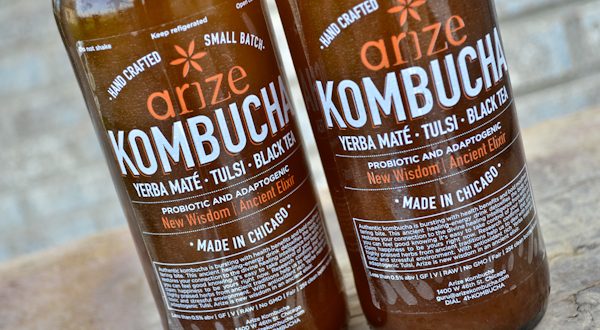 Kombucha Krazy – peace. love. quinoa
Aug 27

On my most recent trip to Peoria, IL, I was extremely excited to find Naturally Yours Grocery, a locally owned health food store. They have the LARGEST selection of kombucha I have ever seen, I went kombucha crazy!!!!!! For those of you who know me know that I have a slight obsession…..
If you have never heard of kombucha or you are not really sure what it is, check out this article:
What is Kombucha (and is it really good for you)?

The LIVE Soda brand is fun because they are flavored to taste like popular soda flavors. Culture Cola & Revive Rootbeer are the flavors I chose to buy – can someone say Root Beer Float??

I never knew that Celestial Seasonings started making Kombucha, why wouldn't they? I'm intrigued because I've never seen it before, but it isn't my favorite and I probably won't buy it again. Can you say "made from concentrate"?

Maybe I haven't said enough about the amount of excitement I feel when I get to sip on a type of kombucha I've never tried. Kombucha is the kind of drink that requires an acquired taste. Once you've acquired and enjoy the taste, it becomes a delicacy that can be enjoyed on a daily basis. It becomes part of your routine, part of who you are. Kombucha, with it's live cultures and alkaline PH can instantly improve your mood and well-being.
Reed's Kombucha, I like because of the flavor. They've got many flavors to choose from and they are all delicious. Pomegranate Ginger, Lemon Ginger Raspberry, Cabernet Grape are a few examples of the flavors offered by Reed's, they sound tasty right? Well, they are.

High Country Kombucha, fresh brewed in in the Colorado Rocky Mountains.
I'd never heard of it until now.
Maybe I'll find more of it on my trip to Boulder next month?
Synergy Kombucha: tried and true.
This brand of kombucha is the most common in kombucha drinks and was my gateway in to drinking kombucha. I've been drinking it for years and am just recently discovering different brands on the market (see above).
My favorite flavors are Strawberry Serenity and Guava Goddess.
What are your favorite kombucha drinks?
Have you ever tried making it on your own?? ((That's my next step))
I think my all-time favorite kombucha drink is the buchi water that I had at Wild Cow in Nashville.
Tagged with → alternative • drink • health • Health food store • Herbs • kombucha • Probiotic • SCOBY • Teas and Tonics
Love
Crista
homemade Tomato Chutney Garden Recipes That I Love