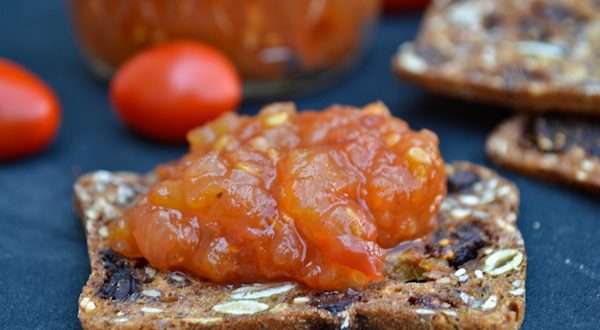 homemade Tomato Chutney – peace. love. quinoa
Aug 26
With more tomatoes growing in the garden than we know what to do with, I decided to make this Tomato Chutney when I came across the recipe. I absolutely love jams and jellies and chutneys but I've never made an attempt to make any of them until now.
Print
Tomato Chutney
Author: peace. love. quinoa
Ingredients
2 lbs. assorted tomatoes (of choice)
1 large onion, chopped into eights
½ cup raw turbinado sugar
⅓ cup white vinegar (5% acidity)
½ teaspoon dried crushed red pepper
½ teaspoon allspice
pinch of sea salt
large pot of boiling water
large pot of ice cold water
Instructions
Cut a large "X" on the bottom of each tomato. Working in batches, place the tomatoes in a large pot of boiling water.
Blanch for 30-60 seconds or until skins start peeling off. With tongs, pull the tomatoes out of the boiling water and immediately drop in to ice cold water; drain.
Remove the skins of the tomatoes and discard. Remove the core and discard. Quarter the tomatoes and set aside.
Pulse the onions in a food processor until chopped. Add the tomatoes and any accumulated juices and continue pulsing until the tomatoes are chopped.
Pour the mixture in to a large pot along with all other ingredients; bring to a boil over medium heat.
Cook, uncovered, for 1 hour or until mixture is thick and reduced, stirring often.
3.2.2265
This chutney can be used in a variety of different ways, here you see the chutney served with crackers, I can imagine a cheese would have sat well with the cracker + chutney. I can also imagine this chutney would be delicious served on top of a fresh fish filet or Fried Green Tomatoes. When I visit Indian restaurants, they always serve a variety of chutneys with their appetizers.
I can't wait to share a few ways I'll be using this tomato chutney in the near future.
How would you serve this chutney?
Tagged with → chutney • Cook • Cooking • garden recipes • gluten-free • Home • indian • Indian cuisine • PLQ favorites • recipe • sauces & condiments • side dish • tomato • tomato chutney • vegan • Vinegar 
Love
Crista
Kombucha Kooler: a Root Beer Float Kombucha Krazy