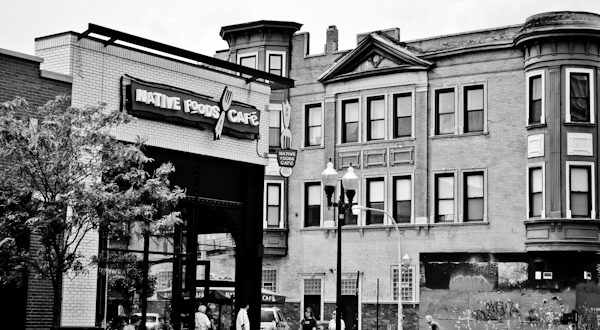 restaurant spotlight: Native Foods Cafe, Wicker Park – peace. love. quinoa
Aug 17
In August of 2011, a popular California chain of vegan, organic-friendly restaurants, Native Foods Cafe opened up in my favorite Chicago neighborhood, Wicker Park.
We lived in Wicker Park for a few years so we ate at Native Foods Cafe a few times a week. I loved it, we could walk there, take the dog, sit out on the outdoor patio….  people there knew us by name… the place felt like home.
We have since moved out of the neighborhood but on Fridays, I still work in a salon located in Wicker Park just a block away from Native Foods Cafe. For years, I made it a habit to pack my lunch for work but now I make it a point to not pack my lunch so that I have an excuse to go to Native *smiles*
My salon colleagues at the salon all love Native Foods just as much as I do, in fact they are way more popular there than I am. It's a restaurant that ANYONE can love whether or not they eat vegan food regularly.
So they have this rewards program at Native Foods and after you've spent a certain amount of money, you are rewarded. Well, since the opening of this Wicker Park location, I have spent $650.00+ there!!
I don't even go there every week anymore!
(now that I've fallen in love with Antique Taco again)
I will say that Native Foods Cafe has OUTSTANDING customer service, best ever…. and even though I only visit 2-3 times a month, they recognize me and offer me a warm "welcome back" every time I walk through the door. A few weeks ago, the manager offered me a free vegan oatmeal cream pie just to thank me for being a regular customer. Thanks mister.
Although I've been stuck on the Caribbean Jerk Kale Salad lately, I decided to try something I've never had before on my latest trip to Native:
the Oklahoma Bacon Cheeseburger: 
thinly sliced Native Original Seitan, melted cheddar, caramelized onions, and crispy Native Bacon on a bun slathered with BBQ sauce and ranch dressing, romaine, carrots, onions, and tomato, topped with crunchy battered dill pickle chips
Take a good look at those fried pickles in this photo, they're in my belly right now. Those fried pickles were the best I've ever had, no big deal. Oh, and that bacon.
Oh, and those seasoned fries.
If you had to choose between classic seasoned fries and sweet potato fries, which would you choose? It's a hard decision, right?
Yeah, well I have to make that decision at Native Foods every time I step foot through the door. 
Here is another decision you have to make at Native Foods: Are you going to drink the Lavender Lemonade, the Watermelon Fresca, or the Native Iced Tea?
I never choose just one, I always make a blend.
On this particular trip to Native Foods Cafe, I ran in to Chef Kendall who was on location prepping for the new fall menu and photographing dishes for a new cookbook. She was kind enough to hang out with me for a few minutes and let me check out her collection of props. (!!!!!!)
Imagine me pointing at the prepared food, asking "whats that?" …"and that" …."what about that?"
Chef Kendall was kind enough to answer all of my questions, and she schooled me on jackfruit. 
I heart this place.
Native Foods Cafe
1484 N Milwaukee Ave, Chicago, IL 60622
773.489.8480
Tagged with → California • Chef • Chicago • food • Native Foods • Native Foods Cafe • restaurant • vegan • Veganism • Wicker Park 
Love
Crista
Purple Haze Tomatoes & Peaches Restaurant Spotlight: One World Cafe, Peoria, IL