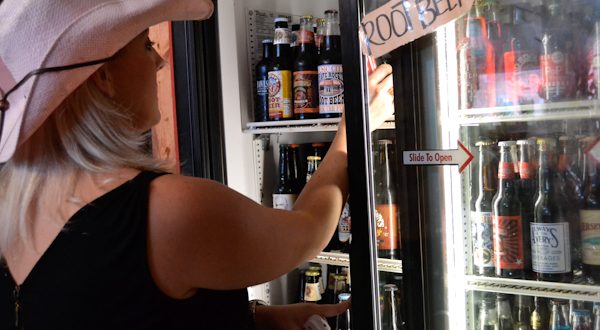 Rocket Fizz: a soda shop – peace. love. quinoa
Jul 23
Near the Downtown Hostel, we found a cute little soda shop, Rocket Fizz.
Finding the soda shop was one of the best things that happened to us that day because it was HOT over the weekend (especially underneath our brand new boots and hats).
The "owners" were telling us some story about being from suburban Chicago but living in Nashville to handle the family business…. I googled the Rocket Fizz and find that they have multiple locations throughout the United States. Whatever, it was adorable.
Check out the selection of sodas! Key Lime Pie, Peanut Butter, Sweet Corn, Cherries & Cream, Vanilla Creme Beer, Sweet Tea, Lemon Meringue Pie, a variety of Cream Sodas & Root Beers and Jones Sodas and Mineral Waters and that's not even the half of it!
I was impressed with the selection of sodas made with Cane Sugar. 
This Coriander Orange SIP Soda rocked.my.world.
YUM.
Rocket Fizz Nashville
201 North 2nd Avenue, Nashville, TN 37201
615.730.8085
Tagged with → Nashville • retro • soda • soda shop • TN 
Love
Crista
Nashville, Tennessee: "we're not from 'round here" brunch at Wild Cow