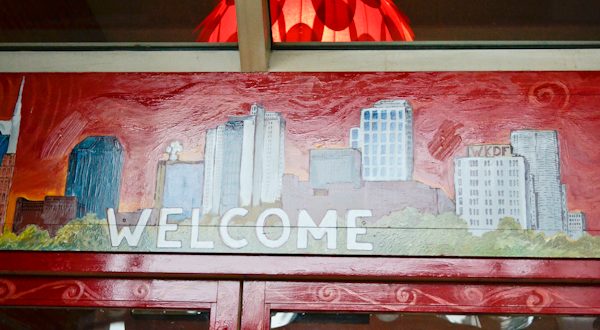 Nashville, Tennessee: "we're not from 'round here" – peace. love. quinoa
Jul 22
We're here in Nashville, and we survived the weekend.
Our first stay in a hostel was exhilarating, I get off on new experiences. Around here in Nashville, the locals aren't familiar with the hostel (it's only been there for a year) in fact – one local we met thought a hostel to be a whore-house and he had no idea that the place even existed in Nashville, he lives less than a block away! I had to work hard to convince him that we weren't staying at a whore house for the weekend. And get this, we hopped in a cab and asked to go to the Downtown Hostel, the cabbie took us to the downtown Hustler store. HA! It was hilarious.
The common area of the hostel was occupied with foreign travelers 24/7. As much as I wanted to, I didn't take any photos of the common area in order to allow those people privacy. There was a pool table, couches, guitars, a kitchen, and a workspace. Every time we entered the hostel, there was a traveler playing the guitar. Laura & I had our own private room, it was very basic, but clean. We were given sheets, blankets and a towel, we made our own beds upon arrival. We got weirded out when we found out that the blankets are not laundered in between each use, it's just the bed sheets and towels that are laundered in between use. Eh, it cost us less than $50/night to stay at the hostel, what can you expect?
After checking in to the hostel, we immediately set out to find Cowboy boots. Success. All stores offer buy 1 pair, get 2 free. You don't have an option, you always get 3 pairs. Laura & I split the cost of 3 pairs. Otherwise, had we both taken advantage of the deal we'd be in 6 pairs deep. That's just ridiculous. 
We Honky-Tonked the weekend away, maybe 48 hours straight.
We danced like we've never danced before and we consumed more Apple Pie Moonshine than should be legal.
For 2 days, we were able to just let go….
I love Nashville. I love Tootsie's. I'm obsessed with this guy (I'd be a groupie if I could be)…. and I looooove me some country music.
More Nashville (food!) posts to come….
Tagged with → boots • cowboy • Honky Tonk • hostel • Nashville • Nashville Downtown Hostel • Tennessee • travel 
Love
Crista
Nashville-bound Rocket Fizz: a soda shop