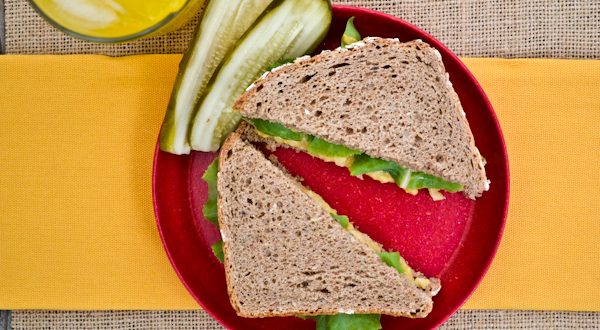 a chickpea salad sandwich – peace. love. quinoa
Mar 24
Finding an alternative for mayonnaise for use in vegan recipes has been quite a chore. I have found only  one brand of vegan mayonnaise (veganaise) up until recently and I've only been able to purchase it at Whole Foods (and maybe a few random Natural Food co-op grocery stores) You can imagine my excitement after being contacted by a rep from Nasoya, who sent me 2 jars of the *new* vegan Nayonaise for sampling.
Nasoya, the nation's leading brand of tofu, is proud to announce that it has perfected Nayonaise, its line of vegan sandwich spreads and dressings.  Nayonaise and Nayonaise Light are excellent alternatives to traditional mayonnaise; both varieties have been reformulated with a smoother, creamier texture and a more delicious flavor than ever before.  NayoWhipped, the line's newest variety, has a tangier taste for those who prefer a sweeter sandwich spread. The entire line is vegan, a good source of vitamin B12 and made from expeller pressed oil.  Nayonaise and NayoWhipped are now fortified with Omega 3 ALA for added nutrition.
I don't use "mayonnaise" in very many recipes, probably because I don't keep it on-hand. Now that I've got 2 full jars, I'll be using it more often!
I've always been a fan of Tuna Salad sandwiches but I don't make those anymore. I can't even bear the thought of keeping stinky fish cans in the house. As an alternative to tuna salad or even chicken salad, we enjoy chickpea salad which can be used to make sandwiches or as a dip for crackers. You can even use it atop a green salad.
Print
chickpea salad
Ingredients
1 can of chickpeas
1½ celery stalks
1 tsp. whole grain mustard
⅛ cup Nayonaise
1 tsp. red wine vinegar
juice from 1 lemon
1 clove of garlic
dash of cayenne pepper
1 tsp. olive oil
pinch of sea salt & pepper
Instructions
Put all ingredients in to a food processor and purée.
#version#
To make the Chickpea Salad Sandwich, toast 2 pieces of whole grain bread (my favorites are: Ezekiel 4:9 or a variety of French Meadow breads), add the chickpea salad (recipe above) and lettuce, avocado, onion, mustard, and a slice of tomato.
Tagged with → chickpea salad • Ezekiel • food • Foodie • French Meadow • healthy • lunch • Nasoya • Nayonaise • recipe • sandwich • vegan • vegetarian 
Love
Crista
disturbia a tropical avocado smoothie