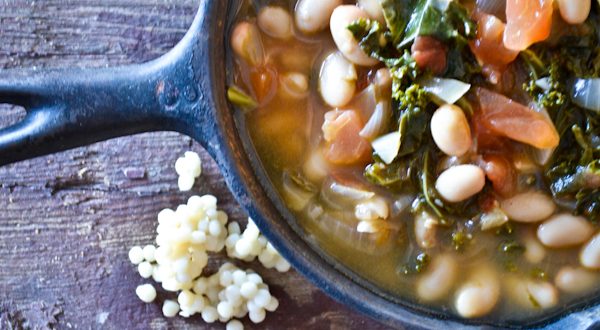 cooking for grandpa: a garlicky kale + white bean stew recipe – peace. love. quinoa
Mar 03
Grandpa & I had a rough week. Although there was so much to be done this week, here were times that we didn't know what to do with ourselves. We didn't have much of an appetite, but eventually we got around to eating due to necessity. Tired of eating out, we took a trip to the grocery store and picked up a few things I had on a list. We were craving soup and I knew I needed to find a recipe with minimal ingredients, simple to make. I hadn't yet gone through Grandma & Grandpa's kitchen cabinets to see what was in them. (I didn't find much worth of seasonings when I finally got through them) 
At 8:00 PM one night, I finally got around to making dinner. This was late considering my grandparents were accustomed to beginning the dinner process around 4-5:00 PM. Luckily, this stew required very little preparation and took less than 30 minutes to make. 
Despite the lack of ingredients that I am accustomed to working with, this stew + couscous ended up being one of my favorite meals. My Mom and Grandpa LOVED it as well. Neither of them thought they would enjoy the kale in the soup but had a whole new outlook about kale after finishing their portions.
I spoke to my mom this morning who mentioned that the soup is gone, they devoured the leftovers AND she was in the process of making kale for breakfast! Apparently teaching Grandpa how to make the kale as well! Turning someone on to kale is #winning in my book.
Print
a garlicky kale + white bean stew recipe
Author: peace. love. quinoa
Ingredients
1 medium sized onion, chopped
4 cloves of garlic, finely chopped
1 large tomato, chopped
2 cans northern white beans
2 cups vegetable broth
2 cups packed shredded kale leaves
3 bay leaves
1 tsp. smoked paprika
1 tbsp olive oil
pinch of sea salt & black pepper
2 tsp cinnamon
1 cup pearled couscous – cooked according to directions on package (optional)
Instructions
In a large pot, sautee onion and garlic in olive oil over medium heat. Cook for a few minutes until the onions have softened.
Add the tomato, beans, vegetable broth, bay leaves, paprika, and cinnamon to the pot and bring to a boil.
Reduce the heat and simmer for 5 minutes.
Add the kale and simmer for another 5 minutes.
Remove & discard the bay leaves.
Season with salt & pepper to taste.
Serve the stew with a side of pearled couscous. I like to add a few spoonfuls of the couscous to my stew just before eating.
3.2.2265
Tagged with → Cook • couscous • garlic • gluten-free • kale • recipe • soup • stew • vegan • vegetarian 
Love
Crista
Life is pleasant. Death is peaceful. It's the transition that's troublesome. kiwi fruit: eat with the skin on!