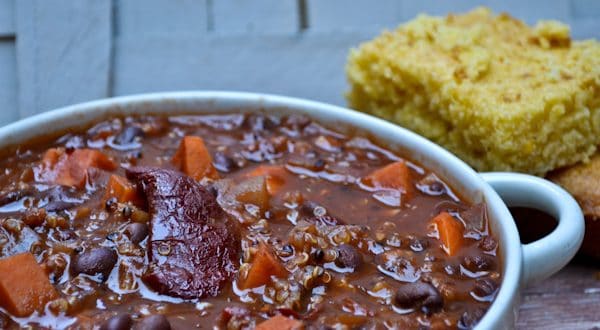 {spicy} Red Quinoa Sweet Potato Chili – peace. love. quinoa
Feb 22
In Denver, we have had beautiful weather lately, 50's and 60's… the perfect temperature for sleeping with the windows open. However, although we are spoiled here in Denver, I know the east side of the country is being pounded with snow and colder temps. I always crave a bowl or warm chili and cornbread – comfort food, and today I'm craving it for my friends on the other side of the country. 
This chili is fairly spicy, might clear your sinuses. If you'd like to cut back on the heat, you can omit the jalapeño pepper and use a lesser amount of chipotle pepper (although they both offer a lot of flavor).
Print
Red Quinoa Sweet Potato Chili
Author: peace. love. quinoa
Ingredients
1 tsp. olive oil
1 red onion, chopped
5 cloves garlic, minced
2 inches ginger, minced
1 jalapeño, minced
2 tablespoons chili powder
3 tomatoes, chopped
5 cups vegetable broth
1 can black beans, rinsed & drained
½ cup red quinoa
1 large sweet potato, peeled & chopped
2 chipotle peppers in adobo sauce, chopped
⅓ cup tomato paste
1 tsp. oregano
1 tsp. cocoa powder
1 lime, juiced
dash of cinnamon
sea salt & pepper to taste
Instructions
In a skillet, sauté the onion, garlic, jalapeño, ginger, and chili powder in olive oil until the onions begin to look transparent.
Transfer the mixture in to a large pot with the tomatoes and vegetable broth. Allow this mixture to stew over medium heat for about 10 minutes before you add all other ingredients.
Add all other ingredients then reduce heat and simmer for about 30 minutes or until the sweet potatoes are soft and the quinoa is thoroughly cooked.
Add salt & pepper to taste.
3.2.2265
AVOCADO is an amazing topping to this chili – it adds creaminess without adding dairy and it cuts down on the spice. 
Love
Crista
a blood orange cocktail pink/purple cauliflower