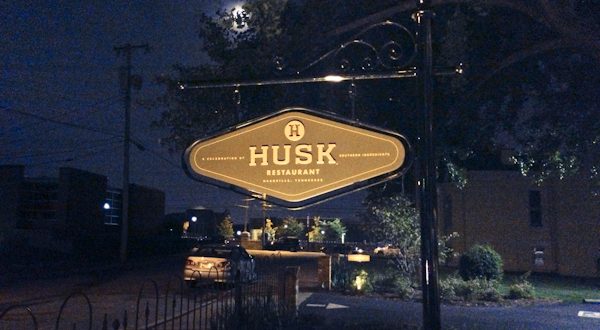 Nashville Eats: HUSK – peace. love. quinoa
Jul 30
During the planning process of my Nashville trip, I stumbled upon blog post after blog post speaking highly of this brand new restaurant addition to Nashville, HUSK. I knew early on it was a place I needed to visit. Success. Although we couldn't get reservations, we showed up anyway. We found a cozy spot at the bar where we enjoyed an extremely pleasing (vegetarian) meal.
Louisa, the bartender hooked us up with the best vegetarian dishes. She rocked. There was a moment when I thought I'd order something different than what she recommended but I knew that'd be foolish. She's eaten the food, she knows….
We started out with this dish: Carolina Rice Griddle Cakes with HUSK Pimento Cheese.
Uhm, yum. I HIGHLY recommend this dish as an appetizer.
Two of us split one appetizer and one main dish and it seemed to be plenty of food for the both of us. Although, take in to consideration we were headed "out" for the night so we didn't want to over-eat. But still, I was stuffed.
Our main dish was what they call "A Plate Of Southern Vegetables". I had NO IDEA what to expect when Louisa recommended this dish. I honestly pictured a plate of sautéed vegetables. I see it all the time, especially in hotel restaurants. SO MANY PEOPLE DON'T KNOW WHAT THE HELL TO DO WITH VEGGIES. So anyway, I was pleasantly surprised when our meal arrived. Excuse the shitty iPhone photos, but can you SEE how AMAZING the presentation of this meal was?!?!? There was a bowl of beans, eggplant something, squash & mushrooms (my favorite), grits & peppers, and some hush puppies. Forgive my quick & ordinary descriptors, I'm not sure I'm even capable of telling you about the different flavors within my meal and how tasty each element was. I honestly didn't even think I'd blog about my experience there, and I didn't take my camera. I really wanted a pure experience, a night without planning what I was going to tell the world. Luckily I took some iPhone photos though. I couldn't resist.
One thing I will tell you about that Louisa told me about. Our meal contained a unique herb that I've never even heard of, let alone tasted: LOVAGE. With a flavor and smell that is somewhat similar to celery, lovage is complex and added a hint of mystery to the dish. I'm curious to know more about this herb and where the heck to get it.
For dessert we ordered this Buttermilk Pie (based on Louisa's recommendation) and it was delicious however too fresh-from-the-cows-boob for my liking…. BUT, I don't do much dairy.
Drinks? We didn't do cocktails because we knew we'd be sipping on Applepie Moonshine (recipe coming to the blog soon) alllll night. I did order some fancy vanilla soda off the mocktail menu and LOVED it.
In other news, while Laura & I sat at the bar and enjoyed our appetizer, we met some handsome men who were waiting on a table. Dressed as silly as we were in our cowboy boots and hats (ready for Tootsies), these guys couldn't figure out what the hell we were doing at this fancy new restaurant that most of Nashville doesn't even know about yet sooooo for the first time ever, I said out loud to a stranger that I write a food blog, I'm a foodie. Funny that I mentioned it because the guy who was standing behind me, Adam Perry Lang, is a restaurant owner and chef for restaurants in New York City, Las Vegas, and London. He does BBQ, I do vegan. Whatever, he still said he'd check out my blog (who knows if he ever did). I looked him up, he wasn't lying about his BBQ, he wrote a book called "Serious BBQ." Ha! I did find some awesome vegetarian-friendly recipes on his site that I am going to make (and possibly share).
Would I visit HUSK again? DUH. In fact, I managed to book another trip to Nashville in September during my birthday weekend (whoop whoop)… thank goodness I did because I am having some serious withdraw. It's the yummy food I did get to experience, it's the yummy food I didn't get to experience, and it's those damn honky-tonks that I just can't get enough of. yeeeeeeeeehaw.

HUSK Nashville
37 Rutledge St, Nashville, TN 37210
615.256.6565
Tagged with → Husk • Nashville • Nashville Tennessee • restaurant • vegetable • vegetarian 
Love
Crista
Whiskey Kitchen & a Bourbon Cherry Bread Pudding Horchata Milkshake: 2 ways